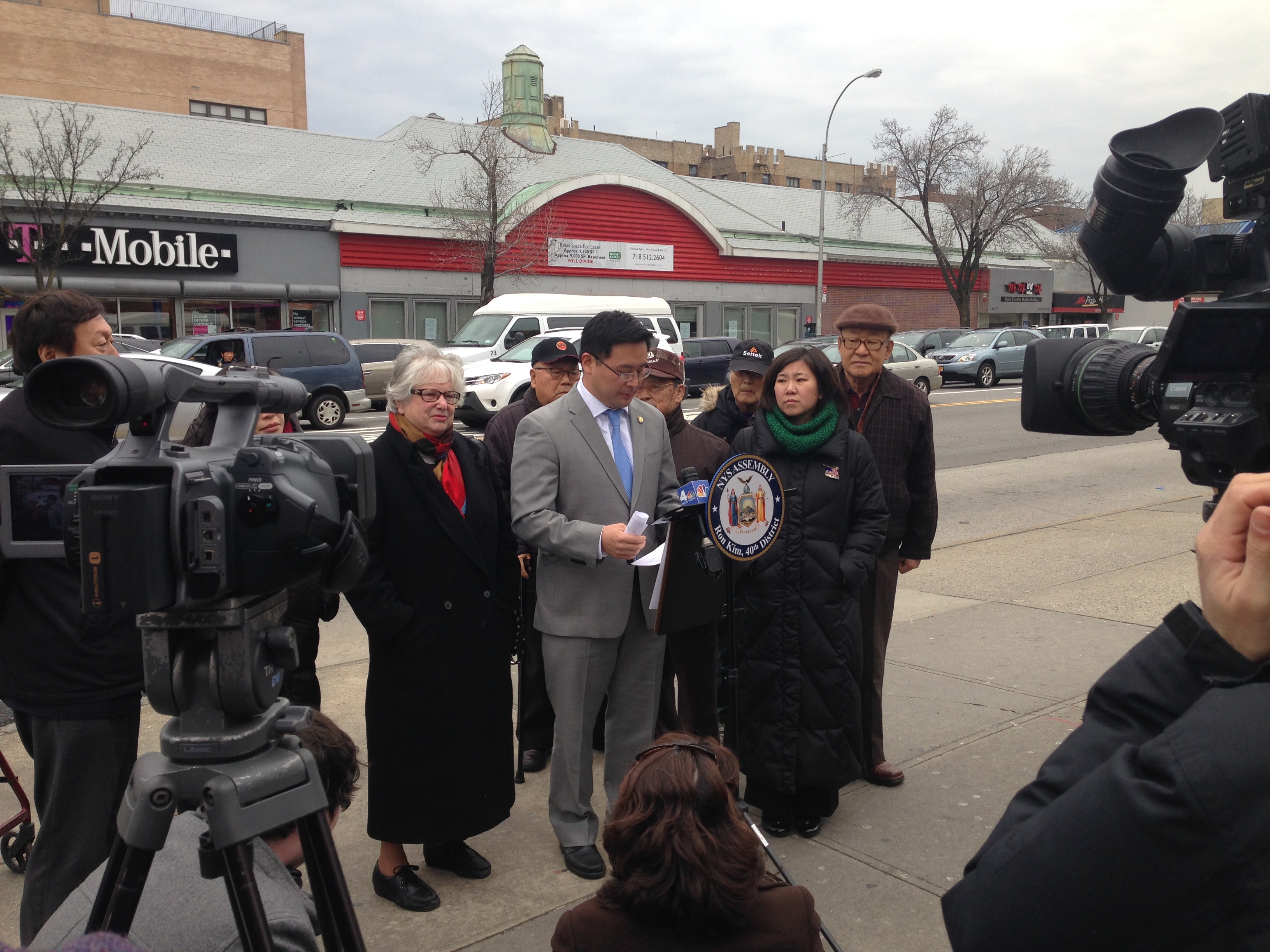 This particular beef may finally be over.
Elected officials and Korean-American community leaders gathered today in Flushing, Queens to declare a resolution had been brokered in an escalating battle between local seniors and a McDonald's. Or, in the words of Assemblyman Ron Kim's press release: "McResolution!"
Tensions had been brewing since last week, when the New York Times reported that Korean-American seniors had been feuding with a McDonald's in the area. The seniors, the report said, would sit for hours, ordering almost nothing, frustrating the business and hungry patrons. The report prompted some Korean-American leaders to call for a boycott of the restaurant in response to what they alleged was discrimination.
But today, the leaders assembled across the street from the McDonald's in question to declare all was settled, invoking Martin Luther King, Jr. Day to make their point.
"Today on a very important holiday, we're gathered here to honor Dr. King's work by working together as a community to promote justice, unity and collaboration," said Mr. Kim, the state's first Korean-American elected official, who organized the event. "Instead of trying to divide the community between a business owner and local seniors, we focused attention on what we could achieve together."
"What better example of celebrating Martin Luther King's heritage than coming together to resolve the problem? Because that was what Dr. King was all about," added State Senator Toby Ann Stavisky, who also represents the neighborhood.
According to the "McResolution!" press release, the owner of the local McDonald's has agreed to: Extend sitting hours for seniors during less-busy hours; post signs to communicate in both Chinese and Korean; work with Mr. Kim's office to resolve any future conflicts instead of calling the police; and collaborate with local senior centers to provide transportation to and from the restaurant. In turn, Mr. Kim said the seniors frequenting the restaurant have agreed to respect the establishment's rules.
Mr. Kim and the officials present also declared there to be "a larger and growing social problem" at the heart of the conflict.
"During this conflict between McDonald's and our seniors from the Flushing community, we saw a glimpse of a larger and growing social problem," said Mr. Kim. "With an increasing immigrant senior community, our communities need more resources and funding to support overcrowded senior and community centers."
View the full McResolution! below:
McResolution!
Assemblyman Ron Kim brings together elected officials and community service organization to address the rising tensions between a Flushing McDonald's and the group of senior citizens that occupy it daily

Flushing, New York – After days of mitigating an issue focused on the McDonald's on Northern Boulevard and Parsons, Assemblyman Ron Kim brought a brewing conflict, between the franchisee of the restaurant and the group of Korean seniors that congregate there, to a truce.

The Conflict
In recent news, a group of Korean seniors (around 20 individuals) were fighting with the local McDonald's when they were asked and refused to give up their seats during busy store hours. The seniors had been sipping coffee and eating fries for long hours and found comfort inside the store as a place to connect and socialize. However, this led to a lack of seating for other customers who needed seats to eat their full meals.

The issue was brought to a head after police were brought to the restaurant to ask the seniors to leave multiple times, resulting in news coverage that highlighted a much deeper social question. In response, many people across the country and in the community had different reactions.

Linda Lee, Executive Director of Korean Community Services answers, "As an organization that primarily serves senior citizens, we believe the real underlying issue that this incident has highlighted is around the lack of social services and resources available for our seniors. We need to create more places where they can go and spend time with their peers and feel a sense of independence and ownership. KCS hopes to meet at least some of those needs with the opening of more centers in the future, creating a mental health clinic, and expanding our already-existing social services to more seniors. In the meantime, KCS is happy to open its doors to create a café space as part of its existing centers where seniors can come, and we hope to continue working with local leaders to ensure our seniors receive services that are much needed."

Assemblymember Kim saw the different layers that made up the issue and looked to find answers to help solve this surface level conflict as well as address some of the deeper issues that the incident reflected.

"This incident was never about David vs Goliath nor was it about discrimination. It was more of a cultural miscommunication." Kim stated, "It was a small business owner, who has been doing business in Flushing for 20 years, trying to keep his business running while accommodating our local seniors. His restaurant became so comfortable to this group of seniors that they are fighting to stay as long as possible there. After a private meeting with the seniors and the owner at my office, we've come to an understanding."

Continuing to be a part of the community and hoping to keep all of his customers happy, the owner, Mr. Jack Bert, has agreed to:

1) Extend sitting hours for seniors except high-traffic hours (11am-3pm);
2) Post signs to communicate in both Chinese and Korean; and
3) Work with our office to resolve any future conflicts and do not call the police; and
4) Collaborate with local senior centers in providing transportation to and from the restaurant.

In response, the Korean seniors have agreed to abide by the new hours posted and to utilize the transportation provided by the Korean Community Services Senior Center to utilize their spaces during high-traffic hours.

U.S. Representative Grace Meng (D-Queens) commented on the resolution, "Kudos to Assemblyman Kim for brokering this agreement. By sitting down and discussing the problem, a reasonable resolution was reached that benefits both the seniors and McDonalds. I'm pleased that this matter is resolved, and happy that both sides can now move on."

State Senator Toby Stavisky stated, "I am delighted that the conflict has been resolved by balancing the rights of the patrons with the rights of the business. I commend both McDonalds and the seniors for being sensitive to each other's needs. This was never about discrimination but instead a misunderstanding exacerbated by language and cultural barriers. I particularly want to thank Assemblyman Ron Kim for his constructive handling and dispute resolution skills."

Mr. Sang-Yong Park, one of the seniors in the middle of this discussion, stated, "No senior cried discrimination here. We just needed a place to sip our coffee and connect with our friends. I'm glad that we resolved this and McDonald's agreed to listen to our concerns. We thank Assemblyman Ron Kim for clearing this up"

The Real Problem
In light of this conflict, comes a prime opportunity to address a growing problem in many communities. With an aging population and a lack of social space and options for low-income seniors, how should communities and neighborhoods change to accommodate and provide for our elderly?

Christian Gonzalez-Rivera, Research Associate at Center for an Urban Future states, "Our research has shown that Korean seniors have one of the highest poverty rates and one of the lowest rates of English proficiency among ethnic groups in the city. There is a great need for linguistically and culturally appropriate services for these elders, many of whom came to the United States to support their families by caring for their grandchildren."

Grace Yoon, the Executive Director at Korean American Families Service Center stated in response to one community group's protest of the restaurant, "We believe that boycotting is not an ultimate solution but we should take this unfortunate situation as an opportunity to reflect on and enhance partnership between businesses and community organizations. The real issue is to find resources and real alternatives to Asian immigrant seniors to spend their time more meaningfully."

Assemblyman Ron Kim states, "During this conflict between McDonald's and our seniors from the Flushing community, we saw a small glimpse of a larger and growing social problem. With an increasing immigrant senior community, our communities need more resources and funding to support overcrowded senior and community centers."