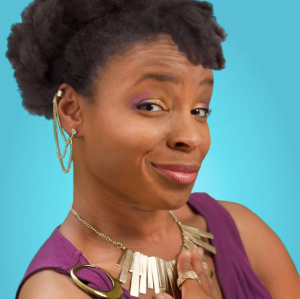 Taking a cue from his former employer, Jimmy Fallon replacement Seth Meyers has taken Late Night where no talk show has gone before: by hiring certified black woman Amber Ruffin for their writers' room. It is believed that Ms. Ruffin will be the first woman of color–any color–to write on staff for a network late night talk show.
Ever.
In the history of late night.
Let that sink in for a moment.

As Kate Dries on Jezebel points, the only late night shows that have ever featured a woman of color on their staff have been either premium cable or off-network, including Totally Biased, The Chris Rock Show and Real Time with Bill Maher. (In other news, Totally Biased was canceled??)
The Daily Show hired Jessica Williams in 2010, but her official role is correspondant, not staff writer.
It's been a good week for female diversity in comedy: On Tuesday, it was announced that Sasheer Zamata would be joining the cast of Saturday Night Live mid-season; the first black woman since Maya Rudolph left in 2007. The next day, we found out that the show had hired two women who had auditioned with Ms. Zamata, LaKendra Tookes and Leslie Jones, as staff writers. In the course of two days, Saturday Night Live went from jeers to cheers: it now boasts one of–if not the most–diverse writing staffs in all late night. (Though since it's a weekly sketch show and not a nightly talk show, Ms. Ruffin's employment is still a first.)
Ms. Ruffin, who trained at Second City in Chicago, had auditioned with Ms. Tookes, Ms. Jones and Ms. Zamata during SNL's secret casting call for black women, meaning that all the talent being hired from just one pool of applicants.
CBS and ABC should be taking notes.