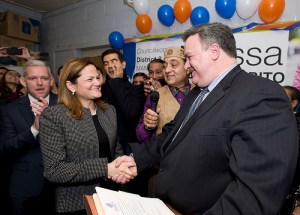 Nearly all of the 30 City Council members supporting Councilwoman Melissa Mark-Viverito's bid for speaker met for an hour at Brooklyn Borough Hall this afternoon, attempting to fortify their ranks with less than 48 hours to go until the council votes.
Ms. Mark-Viverito, who made an appearance at the meeting, boasts a bloc five votes larger than the 26 she needs to be crowned the second-most-powerful elected leader in this city. The challenge, for her supporters, is to stave off a concerted challenge from Councilman Dan Garodnick and the two county organizations in the Bronx and Queens that are still aggressively pushing his candidacy.
Confidence, according to those in attendance today, was high among Ms. Mark-Viverito's backers.
"We were just making sure everyone is staying firm," Robert Cornegy, a Brooklyn councilman, told Politicker. "I walked away feeling very positive … We reaffirmed it could be a very difficult 48 hours, not withstanding those in the room. We want to get a gauge and make sure no one was being solicited inappropriately."
That "inappropriate" solicitation, Mr. Cornegy hinted, could come in the form of quid pro quo offers from Mr. Garodnick's troops, possibly in the form of committee chairmanships. Sources confirmed that's at least one carrot Queens and Bronx forces are using to try to pick off votes, but the exact game plan appears unclear. (One council source said Queens Democrats were discussing possible parliamentary means to delay the vote via the city clerk. But such an unusual tactic would seem unlikely.)
Meanwhile, Mayor Bill de Blasio, who is boosting Ms. Mark-Viverito's bid, has been working to firm up her support. While he has largely refused to discuss his role in public, Mr. de Blasio confirmed this afternoon that he met last night with members of the Bronx delegation, following a recent New York Post report suggesting he was trying to strong-arm the borough's members into backing Ms. Mark-Viverito.
"The fact is yes, I had a meeting with members of the City Council from the Bronx. As I've said many times, I do not go into recounting private conversations," Mr. de Blasio told reporters at an unrelated press conference at City Hall.
The Brooklyn contingent remains on guard, however. Mr. Cornegy said he doesn't anticipate another meeting of the troops before the 51-members of the Council come together on Wednesday to cast their votes. Ms. Mark-Viverito's supporters have also scheduled a press conference in anticipation of the vote that day.
"People walked away thinking we were on the right path," Mr. Cornegy said.
Additional reporting by Jill Colvin.