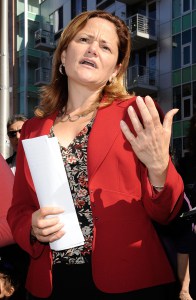 East Harlem Councilwoman Melissa Mark-Viverito has been elected the next Speaker of the City Council.
The 51 members of the Council cast their votes this afternoon, electing Ms. Mark-Viverito, a key ally of Mayor Bill de Blasio, the second-most-powerful elected official in the city in a unanimous, 51-0 vote.
"I am very honored and truly humbled by this day," said Ms. Mark-Viverito, who was bolstered by the left-leaning Progressive Caucus and vowed to continue to press for "a more equal and just New York where everyone, no matter what borough you are from, what neighborhood you were raised in or who your parents were, has equal opportunities."
Ms. Mark-Viverito's chief rival, Manhattan Councilman Dan Garodnick, who had the backing of the Queens and Bronx county delegations, had kept fighting to the final stretch, meeting with supporters as late as this morning. But just after 12:30 p.m.–about half an hour after the vote was set to start–he emerged and entered the chambers to offer his congratulations, hugging Ms. Mark-Viverito to loud applause.
"I want to formally concede to the next Speaker of the City Council, my colleague Melissa Mark-Viverito," he said later, prompting an enthusiastic standing ovation from his colleagues.
"I just want to say that I look forward to working with Speaker Mark-Viverito and helping her ensure that we can deliver a sound and responsible government for all New Yorkers, one that is fair, one that is reasoned, and one that serves as a respectful and strong counterbalance to the mayor," he said–a not-so-subtle reference to his criticism that Ms. Mark-Viverito would be too close to Mr. de Blasio, who helped orchestrate her win.
He went on to praise Ms. Mark-Viverito as "a smart and committed public servant" and vowed to unify the council behind her.
"It is not lost on me that this became a tense and grueling process for many of us. Please know that I will do will do my part to resolve any rifts that this process may have caused among us and am here to take any steps necessary to help move forward together," he said.
Ms. Mark-Viverito was officially nominated by freshman Councilman Ritchie Torres, who broke early with his Bronx delegation to support Ms. Mark-Viverito.
"Melissa Mark-Viverito is someone who has the strength of character, the wisdom of experience and the principled values to be our voice here in the City Council," Mr. Torres said.
"Ladies and gentlemen, this is an historic moment. Today we will be electing the first Latino Speaker of the City Council," he later added, to loud applause. "It is an incredible achievement."
The nomination was seconded by Inez Barron, Daniel Dromm, Robert Cornegy and Julissa Ferreras before the other members of the council cast their votes, offering enthusiastic praise for Ms. Mark-Viverito and thanks to Mr. Garodnick for stepping aside.
In her remarks, Ms. Mark-Viverito touted what she described as a "new" New York City Council, promising a more collaborative approach than her predecessor, former Speaker Christine Quinn, with whom she repeatedly clashed.
"To my colleagues, I pledge you this: I look forward to working hand in hand with you in your districts, communities and neighborhoods. You all have a friend and an ally in the Speakers office and my door will always be open," she said, outlining "a leadership style that allows all voices to be at the table, helping to shape the direction we take as a legislative body; a leadership style that puts the will of the members and the needs of their constituents before the ambitions of a speaker."
She also defended a set of rules reforms aimed at transferring power from the speaker to other members of the Council to address criticism that emerged under Ms. Quinn .
"Many have stated that giving additional power to individual members will undermine the ability of the Council to function effectively. But I believe that empowering each member will only mean that all of us will take greater ownership over this body and work that much harder to preserve its power and its integrity," she said, further trying to stamp out criticism that her close relationship with Mr. de Blasio would make her a poor check on his power.
"And yes, we will unite to hold the administration and the mayor accountable. This is our vision for this City Council: Unity, independence, integrity, transparency and accountability," she pledged.
Updated at 2:24 p.m. with Ms. Mark-Viverito's remarks.