We all know the first rule of social media: If you're going to be a dangerous, internationally renowned Mexican drug lord, don't go putting the photos of your work on Twitter.
According to the Associated Press, Dutch police have arrested Jose Rodrigo Arechiga Gamboa, a suspected top enforcer for Mexico's powerful Sinaloan cartel, on charges he faces in Southern California. Mr. Gamboa was reportedly arrested at an Amsterdam airport after arriving from South America. 
But how ever did law enforcement officials manage to track down Mr. Gamboa? According to this International Business Times article, some "experts" think it probably had something to do with the cartel member's penchant for hinting at his copious cash and glamorous lifestyle on social media.
On Mr. Gamboa's Twitter page, where he goes by the username El Chino Antrax, lucky viewers can find photos of huge firearms, one diamond-encrusted handgun, lots of fancy cars, a yacht and also a real live tiger that appears to be some kind of pet.   
IBT noted that Serafin Zambada Ortiz, whose dad is the deputy leader of the Sinaloa cartel, was also arrested back in November after posting photos of drugs, weapons and tigers (what's up with the tigers, you guys?) on social media. Mr. Ortiz also regularly tagged his fellow drug dealin' brethren in his posts.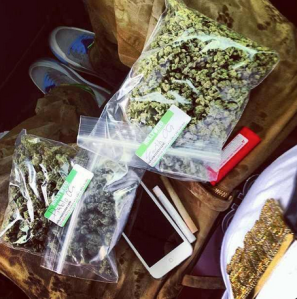 Mr. Gamboa is currently in Dutch jail. He'll eventually be sent back to the U.S. to face his charges.
We guess they should have stuck to Snaps.