Staten Island Congressman Michael Grimm makes a great TV villain.
With his chiseled jaw, pretty eyes and growing record of unsavory behavior, he recalls the deliciously conniving Dr. Michael Mancini of Melrose Place.
But if Grimm wants lessons about handling the media, he should reach across the aisle to his fellow New York City representative, Charlie Rangel. As a gossip columnist, I investigated tips that the longtime Harlem congressman was keeping company in DC with a woman who was not his wife.
To engage with Mr. Rangel on the subject—really, to be managed by him—was one of the great pleasures of my professional career. It also prompted my favorite-ever quote from a public figure implicated in infidelity.
There are some obvious parallels between the Democratic and Republican congressmen. 
Grimm is currently facing a federal probe into his campaign fundraising. Rangel also endured a two-year investigation into his personal finances, eventually being found guilty of 11 charges by the House Committee on Ethics.
Grimm's history of problematic behavior has been extensively rehashed in the wake of his on-air confrontation with NY1 reporter, Michael Scotto. Today, his congressional colleague was interviewed on that station, advising Grimm to cool it in the face of reporters' questions.
"It comes with the profession," Rangel said, "and you've really got to take it."
Remarkably, Rangel was every bit as collected when I was a Daily News columnist, digging around in the then-septuagenarian's love life. I called his office for comment on a tip I received that he had separated from his wife, and was romantically involved with another woman in Washington.
Many politicians in that situation would simply ignore the question, or fob it off with a denial from a spokesman. But Rangel—who, as chairman of the House Ways and Means Committee, was then one of the most powerful men on Capitol Hill—called me to talk about it.
As a charm offensive, it was remarkably effective.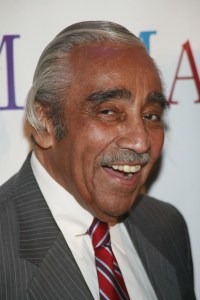 He was articulate and friendly, and with almost surgical precision extracted what I knew—which wasn't much. It was the most artful cross-examination of a journalist I've ever experienced.
But after I ran an item noting the Rangels' separation, a reader called with more information. Suddenly I had a woman's name, and at least one public event linking the two. So I called Charlie's office and left another message.
Again, he called back himself.
The lady in question was just a friend, he assured me in soothing tones. From time to time they attended fundraisers together. (Fans of Muriel's Wedding might recognize this as the "Deidre Chambers, what a coincidence" defense.)
"I don't have time to date," he insisted. "I don't leave the office."
The Rangels later initiated, then called off, divorce proceedings. More recently, they have even appeared together again at events.
But on that day, expertly steering me away from writing about his relationship with another woman, the congressman also delivered this memorable line:
"I'm in love with my job and I'm in love with my…" and there he paused, hesitating to name the object of his affection. Finally he added, "PT Cruiser!"
Rangel has served in the US Congress for more than 43 years. Grimm, facing a tough re-election this year in his sophomore term, could learn a few things from this suave master of survival.