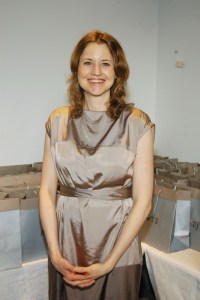 The MIT List Visual Arts Center, in Cambridge, Mass., announced today that it has tapped Henriette Huldisch, a curator at Berlin's Hamburger Bahnhof contemporary art museum, to be its new curator. She takes the place of João Ribas, who stepped down from the position late last year.
Ms. Huldisch has been with the Hamburger Bahnhof since 2010, and organized a very gutsy, beautiful Anthony McCall survey there in 2012, which was the artist's first solo show in Germany. Prior to heading to Berlin was an assistant curator, from 2001 to 2008, at the Whitney, where she co-curated the 2008 Biennial with Shamim Momin.
"I'm thrilled to be joining the MIT List Visual Arts Center, and to work with [Director] Paul [Ha] and his team in continuing to expand the List's reputation for presenting bold new voices and supporting artists at a decisive point in their careers," Ms. Huldisch said in a statement. She starts at the museum in June.