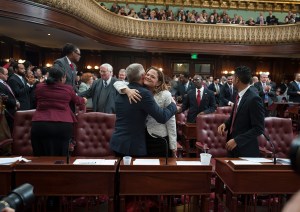 Although the first full meeting of Council Speaker Melissa Mark-Viverito's tenure is scheduled for this afternoon, discussions continue about which council members will take top slots in the council.
Both Politicker and Capital New York have detailed many of the gigs expected to be doled out, but some question marks remain. Last-minute discussions with a number of insiders suggest several other plum posts have been assigned, however.
A source familiar with the matter told Politicker this morning that Queens Councilman Jimmy Van Bramer will become the new majority leader, a top legislative leader under the speaker. As a progressive who broke from his county organization to support Ms. Mark-Viverito, Mr. Van Bramer was one of several members in line for top leadership gigs and the position does not come as a surprise.
Additionally, Councilwoman Vanessa Gibson is in line to become chair of the public safety committee, a different source close to the negotiations said. It is not immediately clear why Ms. Gibson–who was allied with the Bronx county organization that also opposed Ms. Mark-Viverito initially–would be selected to become public safety chair, a committee with little legislative clout but a coveted bully pulpit.
A third source said Ms. Mark-Viverito simply couldn't shut the Bronx delegation out of plum posts, however.
"She can't just totally screw the Bronx over and not give them any chairs. She was looking at Vanessa Gibson or Andrew Cohen for a while," a Bronx source told Politicker, referring to another freshman lawmaker from the borough. "It's easier to give newly-elected people something so the Bronx doesn't feel like it was slighted. For future peace, you just can't give them nothing." 
Sources have cautioned discussions are still in flux ahead of a rules committee meeting today at noon
Ms. Mark-Viverito and Ms. Gibson did not immediately respond to requests for comment. Mr. Van Bramer's potential placement noted by a Queens Chronicle reporter on Twitter and the Queens Times-Ledger.