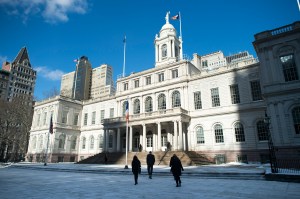 Headline of the Day: "Hollywood Moguls Raise $600,000 for NY Gov. Andrew Cuomo's Reelection Campaign."
Massachusetts Senator Elizabeth Warren visited New York last night to push for campaign finance reform with Attorney General Eric Schneiderman. "As Warren and Schneiderman talk tonight, Cuomo, coincidentally, will be in Los Angeles for a fund-raiser with a top ticket price of $50,000," New York noted in advance of the event.
Ms. Warren nevertheless offered her support for Gov Andrew Cuomo. "Your governor has said, 'Let's attack money in politics head-on.' … All I can say is: Go! Go, go, go. Do this!" she declared, according to Capital New York. The senator also backed Mayor Bill de Blasio on his universal pre-K agenda, asking, "Why is it a fight to send 4-year-olds to preschool?"
As for where Mr. de Blasio was last night, Capital New York reports that he was at a regional AIPAC event. "City Hall will always be open to AIPAC," he told the pro-Israel group. "When you need me to stand by you in Washington or anywhere, I will answer the call and I'll answer it happily 'cause that's my job."
The New York Times profiled Councilman Brad Lander: "As a teenager, he helped organize a march in Washington in solidarity with Jews trying to flee the Soviet Union. While studying at the University of Chicago, he attended meetings of the Democratic Socialists of America and painted public housing units on Chicago's South Side."
Speaker Melissa Mark-Viverito's "unprecedented" fund-raising activities–out of a new state-based committee–were scrutinized by NY1. "The Speaker should be working to bring the state's lax campaign finance laws in line with the city system, not exploiting them for political advantage," argued Common Cause New York's Susan Lerner.
Councilwoman Julissa Ferreras, the new chair of the finance committee, is coming under scrutiny for her ties to ex-Councilman Hiram Monserrate. "The City Council's new point person in overseeing the $50 billion municipal budget didn't do such a hot job overseeing a nonprofit group at the center of a Council slush fund scandal," the Daily News noted.
While former Councilman Peter Vallone Jr. is keeping his options open. "Well, I'm not Miss Cleo, but there will be opportunities which I would like to be ready for," he told the News of his latest fund-raising event. "Public service is in my blood." On Facebook, he also asked the City Council to "pass my bill and STOP RENAMING LANDMARKS!!!!"