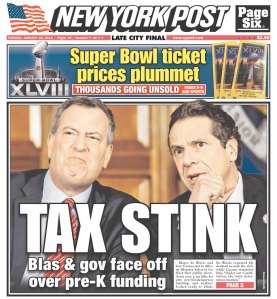 Headline of the Day: "De Blasio and Cuomo Want You to Know That They Actually Totally Love Each Other."
Runner-Up: "#DeBlasiosNewYork: A dispatch from a city under siege, now a dark and forbidding place under its new mayor."
The New York Post reports that Bill de Blasio is continuing to neglect the Upper East Side, allegedly "letting us stew in our own garbage and recyclables," according to one local: "Upper East Siders still steamed about last week's botched snow removal unleashed a new torrent of outrage Monday over the massive mounds of trash piling up on sidewalks."
"Meanwhile, on de Blasio's block in Brooklyn's Park Slope, the only trash to be seen was a bunch of construction debris from a home-remodeling project — neatly tucked away in a tarp-covered dumpster," the report continues. But de Blasio spokeswoman Marti Adams said it is "totally absurd" to suggest a conspiracy here.
Capital New York looked at how Mr. de Blasio's often powerful official photography compares with that of his predecessor, Michael Bloomberg: "Observers who have been following his official photography get a feeling that the quality and composure of the photos are more carefully curated, more artful, more dramatic."
The publication also profiled ex-transportation commissioner Janette Sadik-Khan's legacy, noting her initiatives invigorated the alternative transportation lobby, "leaving the new administration to be judged by a pro-transit constituency that is more vocal and better-organized than ever."
Congressman Michael Grimm's bad headline barrage continues. "A shifty associate of embattled Staten Island Rep. Michael Grimm will have to cough up a glittering Rolex watch to the feds after his mob-connected bail suretor yanked a $30,000 contribution, court papers show," according to the Post.
Ahead of tonight's State of the Union speech, Gov. Andrew Cuomo recalled the two times he was the "designated survivor" for the Clinton administration's official addresses. "For me personally, it was a very sobering experience because it's posing a truly frightful and unimaginable scenario," Mr. Cuomo told the Daily News.
Speaker Melissa Mark-Viverito refused to comment on Mr. Cuomo's "extreme conservatives" controversy during her visit to Albany. "I have not taken a formal position on what has been indicated by the governor," she told Capital Tonight yesterday. "I'm not going to comment on those comments," she added when pressed.
And ex-de Blasio spokeswoman Lis Smith, who was reportedly booted from his orbit earlier this year, graded the de Blasio administration on Inside City Hall.