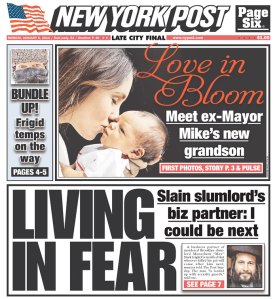 Headline of the Day: "The New York Post Is Sorry It's Not Sorry."
Runner-Up: "Cuomo's State of the State to be 'orgy of self-congratulation.'"
On Wednesday, Gov. Andrew Cuomo is reportedly set to propose a statewide alternative to Bill de Blasio's universal pre-K plan–without using the mayor's signature tax increase. Mr. de Blasio will host a "Press Conference on Universal Pre-Kindergarten" this morning, where he will surely address the issue.
Also on Wednesday, the City Council will vote for its new speaker. Front-runner Melissa Mark-Viverito remained confident when asked about her position yesterday. "Our coalition is solid," she told NYTrue.com. "I look forward to the next three days and anxiously await the 8th of January."
Ms. Mark-Viverito also addressed the critical media coverage of her candidacy. (The latest involves charter schools, unreported income and "a Caribbean hex.") "Overwhelmingly the focus seems to be solely on my campaign and my candidacy and my character and no one else's. So I think that, in and of itself, speaks for itself," she said.
Nevertheless, her main rival for the position, Councilman Dan Garodnick, was profiled in The New York Times today. "With only three days left, his supporters say that they believe he can prevail, and that it may not be clear until Wednesday how all the council members will vote," the paper notes.
While Mr. de Blasio is continuing to lobby Mr. Garodnick's supporters to back Ms. Mark-Viverito. "The mayor is requesting to meet with The Bronx [council members]," Bronx Councilman Fernando Cabrera told the New York Post. "We haven't decided if we're going to or not. It's going to come down to the wire."
"He didn't drop him!" Georgina Bloomberg told the Post of her father, former Mayor Michael Bloomberg, holding his new grandson for the first time. "He didn't choke up or cry — he was just very happy and thought Jasper was adorable."
And the Daily News, reporting on the controversy generated by yesterday's Post cover, referred to its tabloid rival as "a down-market New York tabloid newspaper."