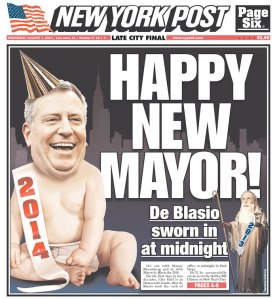 Headline of the Day: "Farewell to All That – and Hello to Politics in City Hall."
Liberals are now watching New York City to see if Mayor Bill de Blasio can deliver on his populist ideals. "The mayor has a remarkable opportunity to make real many progressive policies and prove their merit," Gavin Newsom, the lieutenant governor of California, told The New York Times.
"There's got to be a connection between vision and speeches, and execution and policy … Our beloved president — that brother gives beautiful speeches, but he is milquetoast oftentimes when it comes to execution," added Dr. Cornel West. "We don't want de Blasio going down that Obama lane, or we'll be in trouble."
The Nation reacts: "There are conventions in politics as dependable as the tides. For instance, once elected, a politician's rhetoric shifts from the inspirational to the incremental, and after months of saying nasty things about their opponent, they make nice … In the weeks since he was elected mayor of New York City, Bill de Blasio has abided by neither custom."
Time Times also looked at Mr. de Blasio's challenge in facing down the city's first big snowstorm. "He has all these experienced hands around who know exactly what to do, and know exactly what snow means in political terms to the mayor," veteran consultant George Arzt commented. "It means: Do a good job, or you're in deep trouble. Especially for your first test."
Liz Benjamin, writing in the latest issue of City & State, profiled the upcoming relationship between Mr. de Blasio and Gov. Andrew Cuomo. "This is de Blasio's biggest challenge: He knows how to speak Cuomo-ese, but he doesn't know how to deal with the Legislature," said Darren Dopp, who worked for ex-Gov. Eliot Spitzer.
While Politico published a whole "relationships guide" for Mr. de Blasio: "In the hours before Bill de Blasio's inauguration as the mayor of New York City, the seats on the dais at City Hall already bore name tags. The closest one to the podium? Reserved for an 'H. Clinton.' Next? 'B. Clinton.' Also in the front row: New York Gov. Andrew Cuomo and outgoing Mayor Michael Bloomberg."
The City Council speaker's race is ongoing as well. Last night the news broke that outgoing Speaker Christine Quinn has quietly backed rivals to front-runner Melissa Mark-Viverito, despite her professed neutrality in the race. "I had a conversation with her where she was absolutely discouraging Melissa," one council member told Capital New York.
And here's video of Mayor Michael Bloomberg leaving City Hall yesterday evening:
[youtube=http://www.youtube.com/watch?v=2CdEwwpH3po&w=560&h=315]