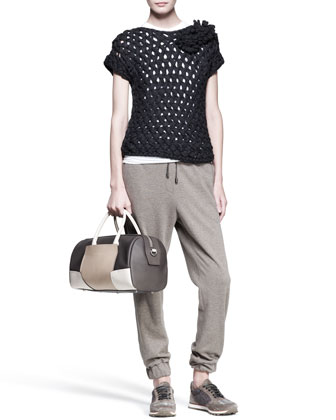 Oh, no!  Your maid has taken your python pants to the cleaners, and it's freezing outside. Maybe it's a good day to just kick back and relax in a low-key pair of $1,170 Brunello Cucinelli sweatpants. What to do?
Go for a "run." Clarification: let your manservant run, while you perch atop his shoulders. You can also take inspiration from Yoda and ride on his back in this Chanel backpack. To burn extra calories wave your arms in the air like you just don't care!
Curl up on your entirely unyielding Biedermeier and write in your journal.
Shred your journal before the FBI finds any of the information in it and indicts you.
Make yourself some comfort food. A foie gras sandwich sounds nice, but so does truffle soup. You could have both. You "ran" earlier.
Watch your maid as she cleans. Roll up your sweatpant cuffs and help by pointing out all the place she's missed! Don't actually touch any dust under any circumstances. Pointing is helping.
Take your pet komodo dragon for a walk.
Watch The Hunger Games and wonder why the people in the Capitol are so misunderstood.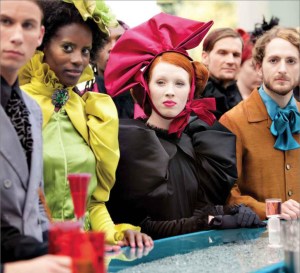 Try doing something creative. For instance, would the Picasso match the Biedermeier better if you added a dash of red? I think it would.
Make some hot chocolate! Don't forget to add marshmallows and gold flakes.
This is a great outfit to give yourself a pedicure in. Why don't you do one using gold leaf?
Your gold leaf pedicure looks terrible. Save it for the hot chocolate. Scrub it off immediately, and try a new one with diamonds. Teeny, tiny, unobtrusive diamonds.
Pair them with a ballgown that covers them entirely. It'll be great because you'll know you have them on. It will be your special secret.
(Seriously, we love these sweatpants, and if we had them we would wear them every day, but not out in public, because they are just sweatpants).