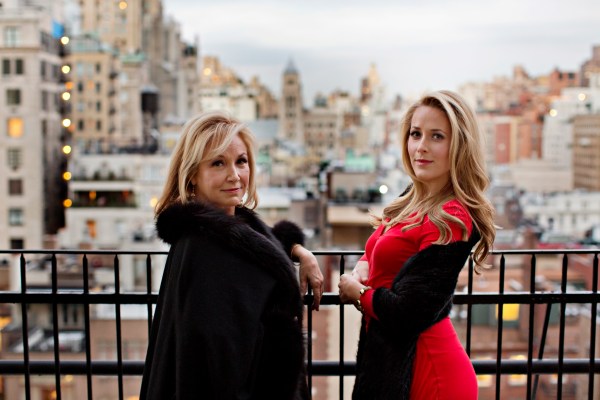 Late last year at the Peoples Improv Theater, Cristina Cote, one half of Corcoran's superstar sales duo, the Terri-Cote Team, stood center stage, lip-syncing to Aretha Franklin. It was the night of her sold-out, all-female showcase, "HERsterical," at the New York Comedy Festival. After watching the other comics in the lineup, including Saturday Night Live's Vanessa Bayer, whose acts veered toward the dark and self-lacerating, Ms. Cote's style was almost jarring, her vibe more old-school vaudevillian than dark ironist, more Lucille Ball than Sarah Silverman. "Our show is called 'HERsterical.' I think that's a pretty clev-her title, isn't tits?" the 26-year-old said with a wink.
Meanwhile, backstage, the other half of the Terri-Cote Team, Ms. Cote's mother, Victoria Terri-Cote—who doubled as her daughter's co-producer that evening—listened nervously. "I felt like the mother of the bride," she would tell me later.
The show was a coup for Ms. Cote, whose prior production experience consisted of a Web series and small sketch performances. (In fact, after "HERsterical," the booker at Carolines on Broadway approached Ms. Cote about making the showcase a recurring feature at the club; the first redux will take place next month.) Putting together a marquee show at one of New York's biggest comedy festivals is no mean feat, particularly for a fledgling producer with a full-time day job. However, as evidenced by $100 million-plus in apartment sales, Ms. Cote possesses the sort of innate talent—call it charisma or salesmanship—that makes executing a creative vision like "HERsterical" possible.
"[Cristina] came home and said to me one day, 'You're not going to believe it. I just got Vanessa Bayer,"' Ms. Terri-Cote recalled. "And I was like, 'How on Earth did you do that?' And she said, 'You know, it was everything that I've learned in real estate.'"
A few weeks later, after a day of showings at a $4 million Park Avenue three-bedroom, the women of the Terri-Cote Team met me in Bemelmans, "our home away from home," said Ms. Cote.
Mother and daughter look and sound identical—both blond and blue-eyed, with the same sing-songy voice and blinding smile. "People are always like, 'Are you sisters?' And I'm like, 'Stop hitting on my mom!'" said Ms. Cote.
Moreover, not only do they work together; Ms. Cote and her mother share the same home. "They're like this amazing duo," said close friend and New York Post reporter Tara Palmeri. "I can see where Cristina gets her charisma and her humor."
Ms. Terri-Cote grew up in Los Angeles dreaming of becoming an actress. In the 1970s, she scored minor roles on sitcoms like Happy Days and Starsky and Hutch and appeared in a John Cassavetes film called Opening Night, a gig she booked by walking onto the lot. In 1981, she moved to New York to study acting with Stella Adler but soon tired of the cattle calls. After divorcing Ms. Cote's father, she went into real estate because of the flexibility it gave her as a single mother.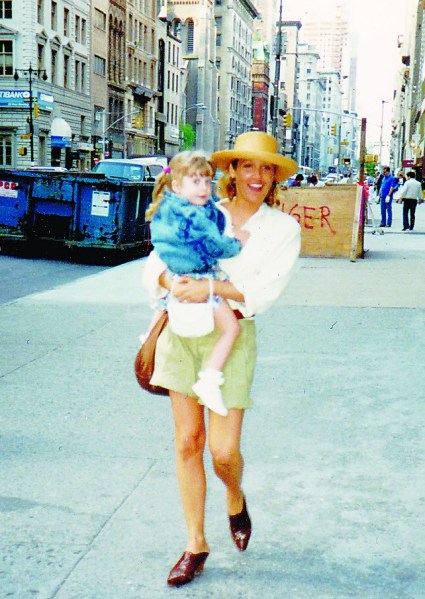 At Corcoran, Ms. Terri-Cote adeptly ascended the ranks, finding a niche in the emerging Downtown market while her colleagues' attention was still uptown. "At a time when not a lot of people knew that part of the city, she was an expert," said Corcoran President and CEO Pamela Liebman. "She really made quite a name for herself."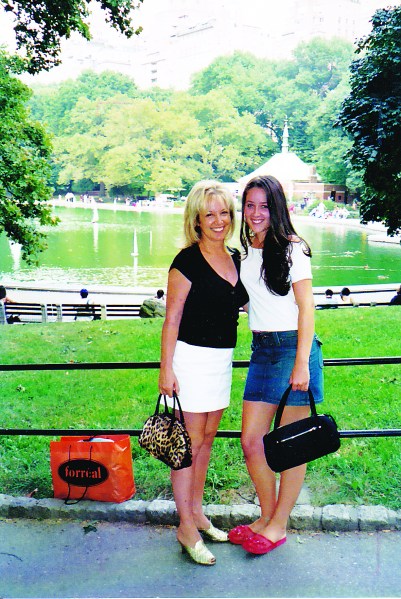 Even in the early years, when Ms. Terri-Cote was camped out with her daughter in an ignominious one-bedroom, she seemed made for the high-flying world of luxury real estate. Over the years, she has had dalliances with a string of A-listers, including David Cassidy and a pre-mayoral Michael Bloomberg. ("He was probably as good a date as he was mayor," she said with a laugh). Now, in her 16th year with Corcoran, Ms. Terri-Cote is a regular fixture in the company's multimillion-dollar club. (In 2004, she won the prestigious Deal of the Year award for selling the city's most expensive co-op: Lily Safra's sprawling $18 million penthouse.)
Which isn't to say the road has been smooth. In the early 2000s, Ms. Terri-Cote and her daughter were living in Battery Park City, a block from the World Trade Center, having lost their previous home to foreclosure. Battery Park represented a fresh start. "It was like this new beginning," she recalled. Soon enough, Ms. Terri-Cote found herself on a hot streak and poised to become head of all Battery Park's sales for Corcoran. Then the towers fell, and the women lost their home for a second time while the Downtown market struggled. Yet friends and colleagues don't recall Ms. Terri-Cote missing a beat. "She actually did quite well after 9/11," said Ms. Liebman. "I don't remember her having any really bad years."
Unlike her mother, a self-proclaimed "Malibu Beach girl," Ms. Cote is an unreconstructed New Yorker who spent her youth gliding through Upper East Side vestibules on Barbie roller skates. She was a regular at Corcoran from an early age, organizing her mother's file cabinet and joining her on showings. "By the time she was 14, she was ready to run the company," said Ms. Terri-Cote, who took on her daughter as partner soon after she graduated from college.
As for Ms. Cote's passion for performing, she discovered Saturday Night Live at age 9 and soon was forcing her friends to reenact "Best of Gilda Radner" sketches and perfecting her Roseanne Roseannadanna impression. (The profits from "HERsterical" were donated to Gilda's Club.) As an undergrad at American University, she produced and starred in her own on-campus TV show and after graduating founded a sketch troupe, Lady Snaggletooth.
"She's very likeable," said Linda Smith, a veteran stand-up coach who helped Ms. Cote craft "HERsterical," comparing her to Ryan Seacrest. Those who know Ms. Cote agree her attitude as a saleswoman is indistinguishable from her comic style: happy. "If you're out with her selling apartments and she's saying, 'Ooh, look at that molding,'" said Deborah Pilla, a long-time friend and client, "it's that same positive energy."
And of course Ms. Cote's real estate connections haven't hurt, landing her cameos on The Daily Show and American Gypsies. The Terri-Cote Team sells to a lot of people in the entertainment industry, people who "want to deal with people who can relate to their lives," said Ms. Terri-Cote.
THE TERRI-COTE home is a duplex on East 74th Street outfitted with feminine touches like pink roses but otherwise surprisingly sparse and cool for a home of 11 years. Every morning, the women meet in the dining room, where they make coffee and strategize a hectic schedule of showings. ("Divide and conquer," said Ms. Cote.)
This daily ritual is one of the perks of living together (and one of things that stops Ms. Cote from fleeing the nest).
"Well, I'm never going to have this much closet space," Ms. Cote laughed.
"Yeah, for her wigs," added Ms. Terri-Cote.
(Ms. Cote has a sizable wig collection.)
To be sure, the women view the Terri-Cote Team as a family business, and they emphasize that angle as much as possible. If it can be hard to believe that the two are as gracious as they seem, friends insist their well-honed people-pleasing skills aren't just there to close deals.
"It's completely genuine," said Sheryl Martinelli, a former assistant of Barbara Corcoran who also helped Ms. Cote produce "HERsterical." "It's a gift. You're either born with it or not. And I think Cristina has star quality. Whatever she would approach, if it involved people, she would be successful at it."