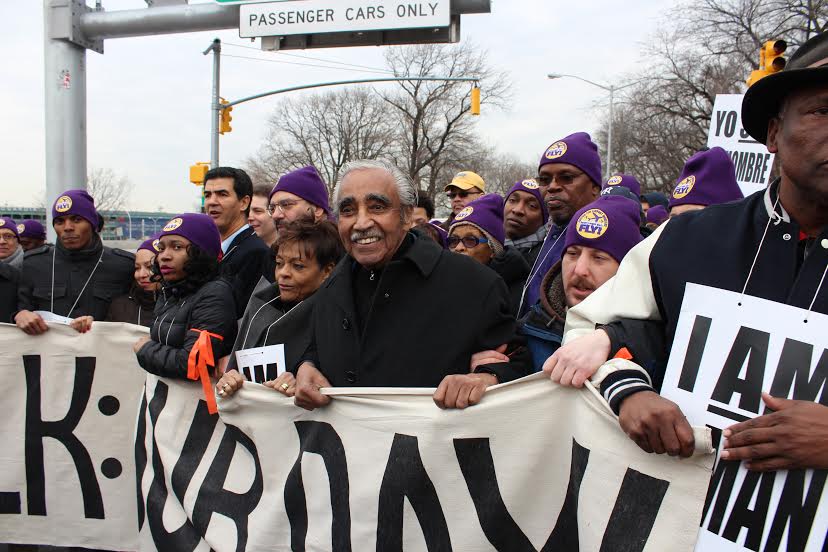 Police arrested New York Congressman Charles Rangel and 29 others, including City Councilmen Ritchie Torres and Antonio Reynoso, at a Martin Luther King Jr. Day-themed labor protest at LaGuardia Airport this afternoon.
The representatives had joined airport workers from the building workers' union SEIU 32BJ as they gathered outside the airport to demand greater protections, including increased wages, health benefits, paid sick days, and the right to a paid holiday on Martin Luther King Day. In an act of intentional civil disobedience, the protesters staged a sit-in across the 94th Street bridge to LaGuardia, blocking traffic to and from the airport.
"No one should be one paycheck away from homelessness," Mr. Rangel declared before the march to the bridge. "We have a new mayor now, Bill de Blasio, and I am certain that he will be spearheading our fight for better wages."
Mr. Rangel, who faces a tough re-election battle later this year, was also arrested a few months ago at an immigrants' rights protest in Washington.
Today, Mr. Rangel was joined by a wide cast of city politicians–not all of whom were arrested–including Public Advocate Tish James, Council Speaker Melissa Mark-Viverito and Manhattan Borough President Gale Brewer, who addressed the gathered airport workers to call for higher wages. 
"The City Council stands united to support you, airport workers, in your demands for dignified work and respect," Ms. Mark-Viverito told the crowd. "We have seen a mobilization across this nation of fast-food workers, car wash workers, now airport workers. We will ensure that we stand with you."
According to protesters, minimum wage salaries have forced many airport workers, including those at today's rally, to rely on government assistance to feed their families.
"I find it nonsense that I have a full-time job and I have to seek public assistance," said Andrew Lloyd, a cabin cleaner at JFK Airport. "I have to do overtime just to support myself and my family." Mr. Lloyd said he and his coworkers work full weeks and extra shifts, but receive no paid sick days or vacation time.
Despite the workers' troubled relations with their employers, the speakers and protesters remained optimistic for change. "The new day has come in the city of New York," declared Public Advocate Tish James. "And this new day is consistent with the dream of Dr. Martin Luther King to lift all people out of poverty."
Though she chose not to participate in the civil disobedience sit-in that saw 30 protesters arrested, according to police, those who boarded the waiting NYPD bus with their hands cuffed appeared to do so with few regrets.
"I was planning on getting arrested today, yes," said Ian, a 32BJ member, as he was being hauled away. "But it means hopefully a better life for a lot of airport workers."