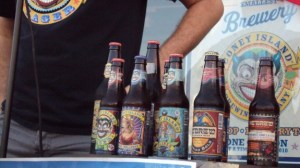 It may become harder to get inebriated while enjoying the warm weather outside in Murray Hill. 
At least Manhattan's Community Board Six is hoping so, with a new plan to make local businesses around the liquor engulfed areas on Third Avenue in the East 30's have their customers order food first, before they enjoy a cocktail. At least if they want to sit outside. 
 That way, if people under the influence want to get obnoxious, at least they're doing so on a full stomach.
 "We hope to deter large groups of people drinking and/or getting rowdy on the street where it will likely have an impact on the community," Chairwoman of Community Board Six's business affairs committee, Nicole Paikoff, told DNAinfo.
 The Committee— which has the power of assessing sidewalk café and liquor license applications—has even gone to the lengths of making local sidewalk business applicants  sign a stipulation that establishes a consensus between both parties on the booze control. 
This new rule isn't going without a fight. Kenneth McCoy,  owner of Pigs 'N' Whistle on 497 Third Avenue has refused to sign the stipulation.    
 "We don't have that kind of rowdy crowd," Mr. McCoy told the business affairs committee at a meeting last month. "I won't do that. There's no discussion."
 In the end, the Department of Consumer Affairs has the final say whether business owners get their licenses or not. 
So despite the influence the community board may have on asking for concessions or reducing the time business owners have for seating outside, there's still hope for those who want to get plastered while basking themselves on the sunny east side.