The so-called J.D. Salinger of indie rock was at a loss for words.
After taking the stage and making it through the start of "The King of Carrot Flowers Pt. One," ("When you were young…") Neutral Milk Hotel frontman Jeff Mangum paused, regained his composure and began again. Later, he admitted to getting choked up in front of the Brooklyn Academy of Music's Howard Gilman Opera House during the first of the band's three sold out shows there.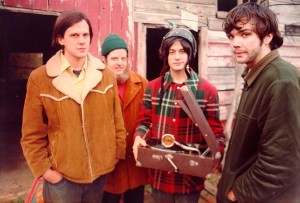 The crowd quickly forgave and breathed its own sigh of relief. After all, Mr. Mangum had famously suffered a nervous breakdown just after Neutral Milk Hotel released "In the Aeroplane Over the Sea." That 1998 sophomore album grew from initial off-kilter cult classic into a canonical indie rock text during Mr. Mangum's years of reclusiveness. If stage fright had led to the opening flub, who knew if this appearance would be Mr. Mangum's last for another decade?
Despite that and other early glimpses of rust, an assured tear through "The King of Carrot Flowers Pts. Two & Three" (beginning with Mr. Mangum's invocation of "I love you Jesus Christ") put those fears to rest. The spectacularly bearded Scott Spillane (on horns), ruthless drummer Jeremy Barnes and shaggy Julian Koster (bassist, banjoist and singing saw-ist) diverted attention from Mr. Mangum, to his certain relief.
From there, the band launched into "Holland 1945," a full-throttle rocker off "Aeroplane" that rang oddly hollow last night. Still, Neutral Milk Hotel was finding its groove. And the audience stayed rapt as the group moved from "Aeroplane"—an album whose oblique lyrics about semen-stained mountaintops and other oddities some interpret as an alternative history in which Anne Frank had lived—into a series of tunes from its lesser-known full-length debut, "On Avery Island" (1996) and the "Everything Is" EP (1994).
About midway through the set, Mr. Mangum's bandmates left him alone on the stage for a transporting rendition of "Two-Headed Boy." At this point it became clear that his nasally bleat—always an acquired taste—had achieved a more sonorous depth. The singer's quiet confidence compounded the impression of running into the now post-adolescent kid you used to babysit.
The BAM crowd—mostly thirty-somethings dressed as though they'd come from Girls central casting—was in a protective, nurturing mood. Concertgoers mostly adhered to the no photography rule. They screamed "We missed you!" between songs. And there was a bit of tension when someone bellowed "When's the next album coming out?" during a quiet moment. (Mr. Mangum recently emerged for a smattering of small shows, but the band hasn't released new material since 1998.) Yet at this point any concern for Mr. Mangum's lingering fragility seemed misplaced.
"You tell me, my friend," he shot back.
The band's own banter was minimal. Mr. Koster recalled the group's salad days spent in a rent-controlled West Village apartment with a shoulder shrug that delighted the Brooklyn crowd, their residence in the city's new center of cultural gravity confirmed. Mr. Mangum joked about the acid trip that led to the unreleased "All the Colors of the Rainbow." A handful of guests came onstage, a reminder of how much Neutral Milk Hotel inspired not only freak folk (for better or worse), but also the quirky instrumental collectivism of Arcade Fire and its ilk.
The set lost some focus toward the end, with "Naomi" and especially "Oh Comely" (which Mr. Mangum also performed stag) being standouts. A thunderous standing ovation—most people sat through the show in general admission seats—brought the band back out for a four-song encore.
Neutral Milk Hotel closed with "Engine," but the gang would have been wise to leave things with the baleful "Two-Headed Boy Pt. 2," the penultimate song of the show and the third Mr. Mangum took on his own. "Two headed boy she is all you could need/She will feed you tomatoes and radio wires/And retire to sheets safe and clean/But don't hate her when she gets up to leave."
No one had expected an answer to the question about future albums. But those last lines somehow provided assurance and cold comfort.