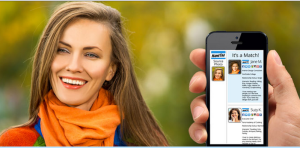 There's a soon-to-be-released app that identifies strangers by using a creepshot a user uploads of them, to further enable your cyberstalking ways.
This latest advancement in technology is an app called NameTag. It works by users uploading a snapshot of a person, where it's then scanned and compared to publicly available social media accounts and dating website profiles. It also scans criminal databases, like the National Sex Offender Registry, to identify pervs.
What results is a detailed dossier of your subject, allowing you to commence your private browser-backed creeping.
Android and iPhone users will have access to it, but Google Glass has banned facial recognition apps from its store. The app's developer, Kevin Alan Tussy, notes that jail-broken Glass devices can use it if you are talented enough to slyly wink to take pictures of your future crush.
Of course, this sounds like a privacy intrusion to have your information doxxed in a single tap, but Mr. Tussy doesn't think so:
"It's not about invading anyone's privacy; it's about connecting people that want to be connected. We will even allow users to have one profile that is seen during business hours and another that is only seen in social situations," he told CNET. 
Call us when there's Lulu integration.