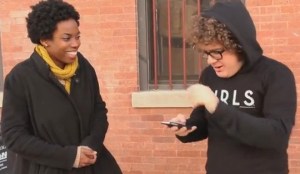 After debuting on SNL over the weekend, featured player and certified black woman Sasheer Zamata had an even amazing-er video on Lorne Michael's viral YouTube network, Above Average. Here she's Madison, your guide to all things GIRLS-related in Bushwick, as she takes us behind the scenes of her SATC-inspired Lena Dunham tour.

[youtube=http://www.youtube.com/watch?v=aBO-JNfKgjM&w=560&h=315]
"I met a guy at a warehouse party in Bushwick and I thought he was my Adam, but then I realized he was just really into heroin."
"I like to think of myself as the fifth girl in the group, but I don't get any screen time because I'm sooooo busy."
Someone hashtag these, please.