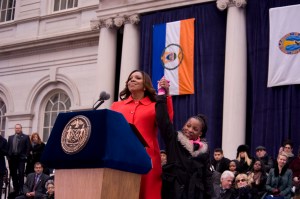 An editor at The New York Times is denying newly-elected Public Advocate Tish James's apparent claim that she played a role in the paper's blockbuster feature on Dasani Coates, an 11-year-old homeless girl in Brooklyn. 
Last night just hours after taking the oath of office with Ms. Coates holding the bible, Ms. James went on Road to City Hall where she laid out her vision for the next four years and discussed having "a little bit of something to do" with the original story.
"Obviously, you know, the exposé, I was aware of it and had a little bit something to do with it and in fact had established a task force on Auburn," Ms. James said, referring to the dilapidated shelter where Dasani lived. "And the conditions continued and so we decided to work together to basically put on the front page of the New York Times the face of poverty in the City of New York because for far too long, I've stood on the steps of City Hall and I've been crying into the wind. And so it took Dasani's face to transfix a city, if not a nation, to focus on homelessness moving forward."
Since the publication of the series, Mayor Bill de Blasio and Ms. James have both highlighted the series to underscore the plight of homeless in the city. Ms. James invited Dasani and her family to her inauguration, where she even declared that Dasani was her "new BFF."
But a Times editor, Matt Purdy, rejected the implication that Ms. James played any role as a source in the five-part series, which was authored by Andrea Elliot. Politicker had previously inquired into the veracity of Ms. James's claims.
"Andrea Elliott met Dasani in the course of interviewing residents outside the Auburn shelter, and exposed conditions there by following the family," Mr. Purdy said in a statement. "Andrea never talked to Ms. James nor was she a source for the story."
Sources with the Times said that there was almost no way for Ms. James to know about the story before it was published because very few people were actually alerted about its progress. Described as a "stealth" undertaking, the Dasani feature was meant to follow a "natural course of events" without the public becoming aware until publication.
Reached for comment, a James spokesman clarified that Ms. James had never spoken with Ms. Elliott and that she meant only that her work as a councilwoman may have inspired the series.
Steve Banks, attorney-in-chief for the Legal Aid Society, which worked with the Times on the homelessness story, also defended Ms. James's record.
"Ms. James said she was involved in a task force calling attention to the decrepit conditions of the facility," Mr. Banks told Politicker. "She helped bring it to light. She wasn't a source for the story."