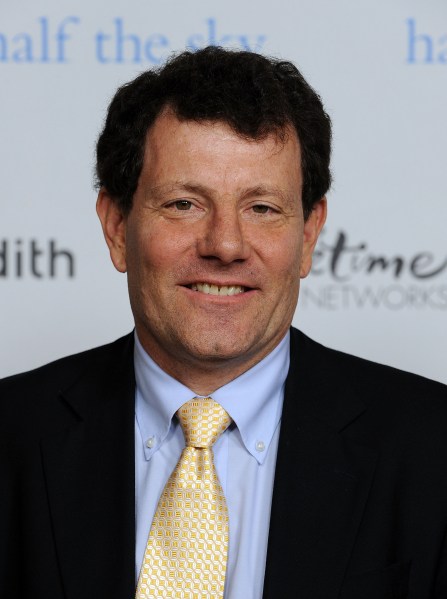 Nicholas Kristof (né Nicholas D.) announced on his blog late last night that he had removed the middle initial from his byline.
For those of you who didn't know Mr. Kristof, an opinion writer for the Times, used a middle initial in his byline, this may come as a surprise. It also may come as a surprise that he took to his blog to announce a change as seemingly inconsequential as a letter drop, but there is, it seems, more to it than that.
Mr. Kristof explains that the initial is a relic from his Harvard Crimson days, when writers were encouraged to adopt the formal given name-middle initial-surname formulation.
"In the fall of freshman year, I wasn't going to argue," he writes, "so I became Nicholas D. Kristof."
He tells us that he's dropping the initial for a couple of reasons, one being that he doesn't "think it buys any clarity. As far as I know there isn't a single other Nicholas Kristof anywhere in the world."
The first reason is legitimate; the second is simply untrue. (A quick WhitePages search brings up a number of Nicholas Kristofs, though the Nicholas Kristof, of course, shows up first on Google searches.)
But the main reason for the change, Mr. Kristof writes, is that it seems out of place in the digital context.
"It feels a bit ostentatious, even priggish," he says. "If my aim in my 20's was gravitas, now I want to reach people and connect with them, and I wonder if the stuffiness of the middle initial isn't a little off-putting. I doubt if it makes much difference, frankly, but at the margin I think that we're moving to a kind of journalism that is more casual, more informal, more personal, and a very formal byline seems as out of place as a three-piece suit in the newsroom."
The rabid dogs on Twitter ridiculed various things about the blog entry. Some used it as an excuse to criticize Harvard's admittedly rigid custom, but most of the rabid dogs, frothing at the mouth, mocked Mr. Kristof for writing the entry in the first place. How ostentatious. How priggish.
Jay Rosen, for one, saw something bigger, tweeting: "That tiny, inconsequential change—Nick Kristof dropping the middle initial from his byline—is a sign of a big shift in journalism." He clarified in a second tweet that it was a "shift from formal authority to direct acquaintance," echoing Mr. Kristof's sentiment.
Perhaps, though, we shouldn't read too much into that. Mr. Kristof embraced blogs and social media earlier than many journalists, but he appears on the opinion page of the Times twice a week. That's pretty formal. Mr. Kristof is also not known to shy away from being authoritative. Back in September, he argued repeatedly for military intervention in Syria, which irked many readers.
On a more basic level, a byline is, in and of itself, actually a serious thing—every writer takes pride in seeing his or her name, whatever it may be, in print or online—and changing it after 30 years at a paper, as Mr. Kristof did, is no small gesture. It attests to the level of influence he carries at the Times that he can change his name, presumably of his own volition, and we wouldn't hold it against him if he admitted that "Nicholas Kristof" simply flows better—two trochees, isn't it?—than "Nicholas D. Kristof." (On a side note, if he was going whole hog, wouldn't he have opted for the more informal "Nick"? [UPDATE: he addressed this question on Twitter early this morning, saying it "seemed a bit too abrupt."])
Choosing a byline is, historically, an editor's prerogative. Take A.M. Rosenthal (né Abraham), the late executive editor of the Times, who explained in his first column as an opinion writer for the paper in 1987 that "[t]he initials and dots in my name were put there long ago by an editor who gave me my first byline but thought my first name was not quite, or maybe too quite."
Mr. Rosenthal never saw to it that his name be changed, maybe because he didn't have to worry about the Internet, or maybe because he liked it enough. (It certainly sounds better than Abe Rosenthal, which is what people called him in person.) But it's worth noting that at least one other Harvard Crimson alumnus saw fit to toss off the shackles of his enforced middle initial long before Mr. Kristof did.
The conservative author Ira Stoll (né Ira E.), a former reporter for The Jewish Daily Forward and a Harvard alum, congratulated Mr. Kristof for getting rid of the initial on Twitter. "I dropped mine in 1995 to save @jdforward money on ink," he said, seemingly in jest.
When asked in an email if he was joking, Mr. Stoll replied: "I would never joke about anything as serious as a middle initial in a byline."
With that in mind, we give our blessing to Mr. Kristof's new name. That extra initial always seemed cumbersome, anyway. May his D-less days be bright and many.