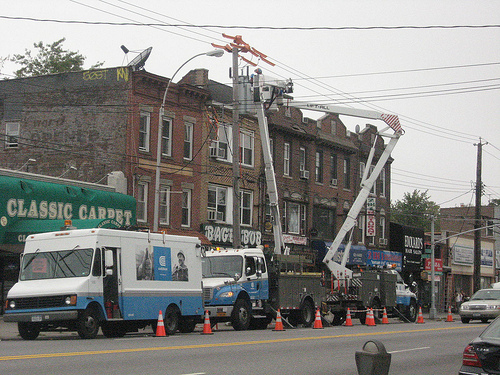 And yet, some small business owners have done just that. 
Several businesses in Williamsburg and Greenpoint have been getting calls from a faux Con Edison employee threatening to pull the plug on their electricity if they don't immediately pay their bills, according to The Brooklyn Paper.
The caller instructs the business owners to put money on a prepaid market card, then asks for the PIN number. Once he has that, he can withdraw the money without being traced.
The plan is sneaky, but not particularly creative. In a press release, Con Ed warns its customers about "Green Dot scams," in which a caller instructs victims to buy a Green Dot Money Pak in order to pay their bill.
Apparently, some New Yorkers didn't take that warning very seriously. The scammer has struck three businesses in Williamsburg and one in Greenpoint in the past week, police told the paper. On January 21st, he swindled a business on Grand Street out of $1,259.10, and another on Montrose Avenue unwittingly gave up $429. On January 25th, the con man tricked a Manhattan Avenue establishment into handing over $1004.95. 
"It seems like they are just cold calling people and seeing who responds," Mark DiPaolo, Deputy Inspector and commanding officer of Williamsburg's 90th Precinct, told the paper. "They are preying on small businesses."
On January 16th, someone tried the same Con Ed con at Carmen's Unisex Salon in Croton-On-Hudson, according to Patch. Carmen's, however, was not fooled. They called Con Ed; then they called the police.
The phone remained powered during both calls.