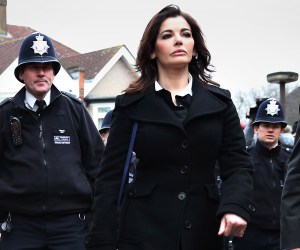 Vanity Fair has posted two archive articles about Charles Saatchi to its website today, presumably pegged to his ugly court battles with ex-wife Nigella Lawson and the recent cold weather, and you should probably head over to take a look at them if you haven't read them already. They're pretty great.
The first comes from 1995 and details how Mr. Saatchi and brother Maurice came to be pushed out of the global advertising firm they started.
Sample sentence:
Yet even before the battle of December 16, the spirit of Saatchi & Saatchi had been broken by accountants who neither breathed fire nor embraced risk. Men who treasured simple things. Men who had never frequented Jack Barclay's Rolls-Royce emporium on the square and who neither knew nor cared how to properly hang a Baselitz portrait.
It's like Mad Men without all the winky "aren't you glad you live in this century?" parts.
The next, from 2002, concerns the courtship of Mr. Charles and Ms. Lawson, such as it was.
[Charles] sold the Boundary Road gallery. (But, ever competitive, he plans to open a huge new venue this spring.) He gravely disappointed the dynamic Nicholas Serota, influential director of the Tate Modern, who was hoping for major donations. "He is someone who doesn't like to be tied down and have commitments to other people," says Serota.

And then he saw Nigella. "Picked as a piece of art by Saatchi" is how one of her friends describes the collector's latest acquisition.

All those discarded elements of his life, I suggest to Nigella. Doesn't this worry her a fraction?

She shakes her head, her dark eyes widening. It is late in the evening. But no weariness tugs at her mouth. "No, actually," she says mildly. "No, it doesn't worry me at all."
Stay warm, friends.