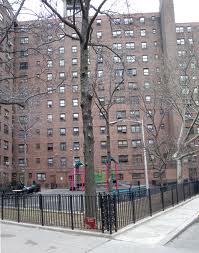 A NYCHA caretaker has been arrested after she allegedly took cash payments from individuals desperate to secure a placement in public housing. Magnolia Diaz, 49, who has been employed by NYCHA as a caretaker since 1997,  supplemented her $40,019 annual income by collecting bribes from individuals whom she falsely promised to secure apartments for, according to the city Department of Investigation.
The DOI claims that Ms. Diaz, who was assigned to Brooklyn Community Operations, and her accomplice, Benarbe Perez, who does not work for NYCHA, collected a total of $14,800 from four individuals by promising apartments that they had neither the authority nor the ability to provde.
Starting in January of 2012, Ms. Diaz and Mr. Perez allegedly charged individuals between $2,800 and $5,000 in exchange for their so-called expedition and placement services. According to the DOI, none of the individuals whom Ms. Diaz and Mr. Perez took money from ever received apartments in exchange for their payments.
Ms. Diaz's job at NYCHA does not include any money-collecting duties nor is she involved with any apartment placement, according to the complaint, making her behavior, and Mr. Perez's, whom the DOI claims also represented himself as a NYCHA employee, fraudulent.
Ms. Diaz has been charged with grand larceny in the third and fourth degrees and scheme to defraud in the first degree. Mr. Perez has also been charged with grand larceny in the third and fourth degrees and scheme to defraud in the first degree. The Manhattan D.A.'s office is prosecuting the case.
In response to the arrests, NYCHA has released a statement saying that it "deplores any action by an employee that would prey on innocent applicants and residents seeking apartments in NYCHA. The procedures for securing a housing unit with NYCHA involve a thorough and heavily vetted process with numerous individuals reviewing an application before it becomes final. Under no circumstances can applicants or transferring residents secure an apartment without going through this complete process and there is no exchange of cash."
"The overwhelming majority of NYCHA employees are responsible, diligent and respectful of this process," general manager Cecil House added.