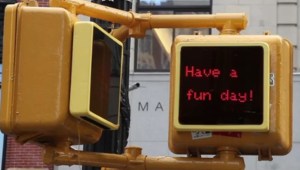 Do not jaywalk on the corner of Broadway and Waverly. You might make Pop Pop angry.
Pop Pop, of course, is the city's first interactive pedestrian street signal.
Debuted in December by NYU students Sam Slover, Alexandra Coym, and Steve Cordova, the sentient street sign uses data to deliver messages relevant to the intersection.
Factors like weather and local news and crime statistics play a factor, along with data taken from a live feed of the intersection and analyzed by the crowdsourcing site Mechanical Turk.
Mr. Slover told The Observer that his creation harkens back to the early days of New York.
"About 150 years ago there would be an actual real person standing on the corner, and he would be influenced by things like the weather," Mr. Slover said. "This is like our own person."
On a clear traffic day with no law-breaking, Pop Pop will display messages to the public like, "Have a fun day cause you're awesome."
Disappoint him with your jay-walking ways however, and Pop Pop will let you know: "Come on folks, no jaywalking please!"
Depending on all this info, Pop Pop can be in one of six moods, ranging from "happy" to "bored" to straight up pissed at all the puny humans parading all over his intersection. Okay, Mr. Slover described it more as "down."
And even then, he admits, Pop Pop skews more likely than not towards the positive side.
"Think about walking through New York and every corner is kind of down. That would be kind of a bummer," Mr. Slover said. "Some very specific things would have to happen to get it very down."
Although Pop Pop is yet to be a permanent fixture at the Broadway location, the team hopes to demo it on certain days in the future. Meanwhile, check out your newest guardian angel in this video.
[vimeo 81987956 w=600 h=400]