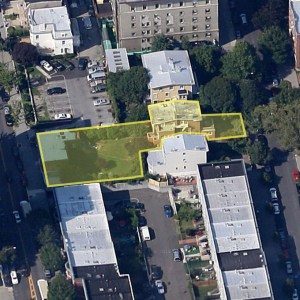 When the Belgian artist Marc Lambrechts bought the compound at 164 South Oxford Street in Fort Greene, Brooklyn, in 2000, he had no notion that it would prove such a savvy investment. Back then, he recently told The Observer, "The market was still no good"—evidenced by the fact that Mr. Lambrechts initially paid less than $900,000 for the compound.
The property, which spans 64.5 feet along South Portland Avenue and 43 feet along South Oxford Street, houses an 1865 brick Italianate mini-mansion that is configured currently as a double-duplex and a studio apartment, and a carriage house containing two one-bedroom apartments. A broad expanse of lawn separates the two structures, the smaller of which Mr. Lambrechts in-part converted to studio space, while living himself in an adjacent single-family townhouse, and renting out the apartments at 164 South Oxford. "I was right next door, so the whole thing was very open," he said. "It was kind of like a communal living situation, with kids always running from here to there. It was very nice. But I just got tired of taking care of it."
Mr. Lambrechts will remain in his brownstone, but the compound—it is actually three contiguous lots—has sold for $7.5 million, according to the seller's broker, Vicki Negron of the Corcoran Group, who shared the listing with her colleague Paul Murphy. (A compendium transfer of air rights will bring the total sale to over $8 million, according to Ms. Negron, significantly less than the $8.95 million the compound was originally asking, though it blows past the $3.75 million townhouse record set last March; a compound, of course, is not quite fair competition for a single structure.)
"Graced with elegant proportions, high ceilings, and light on all four sides," according to the listing, the mansion "retains much of its stately original detail, and could be restored to its original grandeur with minimal work." But historical restoration is not what the new owner appears to have in mind.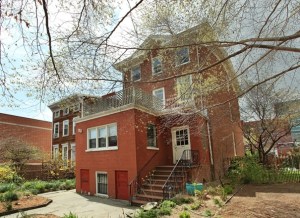 "The new owner will probably either raze the building, or build an enhancement to the back of it, to create a more modern multifamily configuration," Ms. Negron said. "There are very few similar properties in Brooklyn. What was attractive to the buyer was  this property's unique configuration and its proximity to the transit hub at Barclay's Center." She suspects that 15-20 luxury condos will crop up where Mr. Lambrechts once enjoyed kibbutz-style living with his tenants. And in all likelihood, that development will erode something of the property's singularity—Ms. Negron cited the compound's "picture-book pretty" appearance and its tendency to make visitors feel transported, somehow, to the country. Still, she hoped that the new owner would refrain from introducing the glass-tower style architecture that has lately inflamed tempers on the other side of Brooklyn Bridge.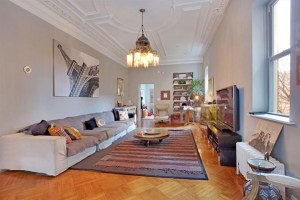 Relieved of laborious upkeep on the compound, Mr. Lambrechts has applied proceeds from its sale to another Fort Greene brownstone, at 169 Adelphi Street—a luxurious, recently-renovated single-family last listed for $3.65 million—and a restaurant in Dallas, making use of a 1031 exchange to defer taxes on his pricey transaction. The brownstone, which Ms. Negron called "quadruple mint," will, she estimated, bring in some $14,000 in monthly rental income, and require only that Mr. Lambrechts master its many automated systems. His Texan acquisition, however, seems a bit unusual for a painter with works titled Parallel Worlds, When the Universe Lines Up and Cosmos's Fabric. The artist's Dallas renters are known to him as Wing Lord Limited, and their place of business is a Hooters.