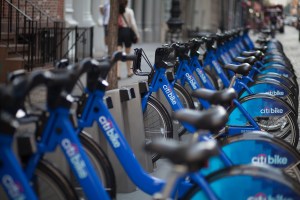 Citi Bike may soon have to put on the brakes.
Bixi, the Canada-based company that developed the technology for New York City's controversial bike sharing program, has filed for Chapter 11 bankruptcy protection, forecasting a $1.5 million dollar loss for 2014.
New York and Chicago have withheld payments to Bixi in tandem, saying the company has not fulfilled its obligations. Finally, Alta Bike Share, which operates CitiBike, wants $11 million in damages. Bixi's total debt is nearly $50 million.
The city of Montreal, where the Bixi headquarters is located, is taking over operation of the company. Montreal mayor Denis Coderre blasted the firm, saying his city "embarked on commercial operations that it should not have been involved in."
Isabelle Bettez, of 8D Technologies, a company that helped with the bike share software, told Gothamist that Bixi attempted to recreate 8D's technology but did a slipshod job of it, exacerbating the problems.
"I'm doing my darndest to save Bixi," Denzil Minnan-Wong, chair of Montreal's public works committee, told the National Post. "We are trying to reach an arrangement where we would assume the operations. We have to be assured that we are buying a public bike-share system that will survive and that will endure." 
CitiBike echoed that sentiment today, brushing off the serious financial difficulties that the company has very publicly suffered. "NYC Bike Share is committed to sustaining and expanding CitiBike as the world's best bike share system," Dani Simons, a spokesperson for the bike share program, said. "We do not anticipate yesterday's news out of Montreal to affect our ability to do so."
You heard it here, everyone is just trying their darndest to keep CitiBike's wheels spinning.