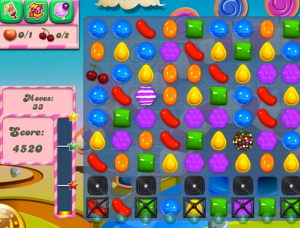 Taking a page from Paris Hilton's playbook, videogame creator King said Tuesday it was going to trademark the word "candy." The British-based company that created life-waster app Candy Crush claims it is to protect it from "persistent intellectual property infringements."
The trademark will be obtained in the European Union and applies to literally everything (clothes, footwear, etc.) and not just video game imitators looking to usurp its dominance. After all, Candy Crush is one of the world's top selling apps with more than 500 million downloads in over a year.
King hasn't filed for a similar trademark in the United States. A company spokesman clarified to Reuters that you're not going to get sued if you use the word without their written consent:
"We don't enforce against all uses of 'candy' – some are legitimate and of course, we would not ask app developers who use the term legitimately to stop doing so," said spokesman Martin Bunge-Meyer.
Candy candy candy candy. Candy.