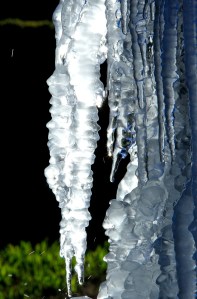 A man suffered minor injuries after being struck in the head by a falling chunk of ice this afternoon.
The victim, who was seen bleeding from his cheek, nose and eye, collapsed on the ground before being taken by ambulance to Weill Cornell Hospital where he was treated for head trauma.
"He was telling people to watch out because ice was falling – and he got hit," witness James Velez, 31, told The Post.
The man, identified only as "Barry," was apparently warning others outside the Plaza Arcade shopping complex on West 48th Street to be wary of the ice above when he was struck.
The chunk of frozen-solid ice was slightly bigger than a football, Onikwa Thomas, a witness told DNAinfo.
Angela Ragouzeos, who called 911, told DNAinfo the victim was in shock and had scratches all over his face.
"I thought someone threw a glass bottle at him," she said.