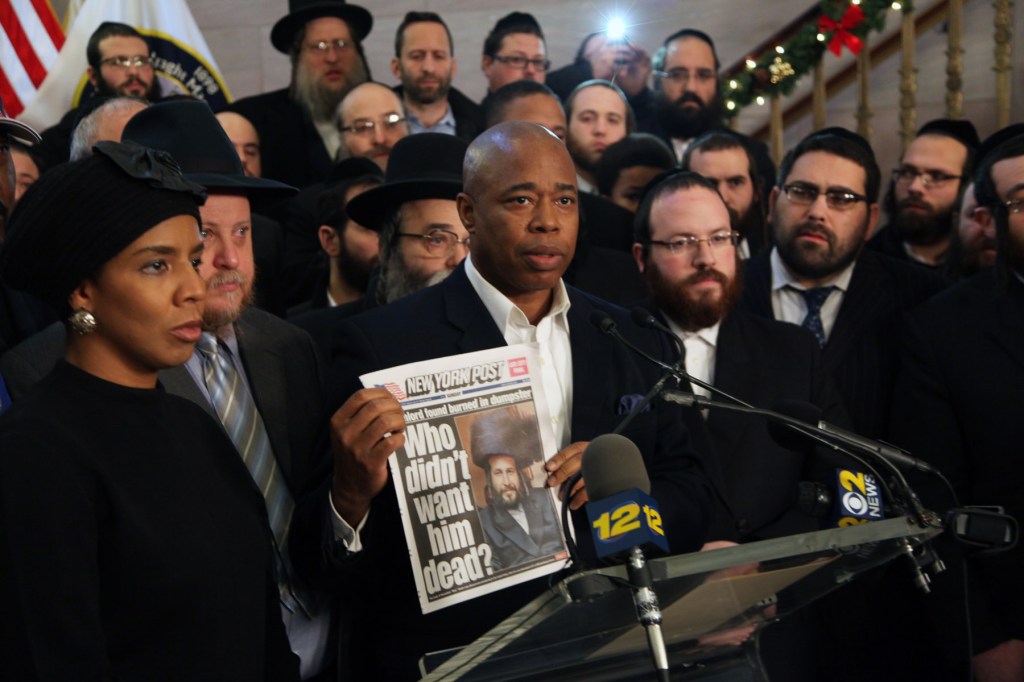 The New York Post sparked outrage today with a controversial front page featuring a photo of Menachem Stark–a Williamsburg businessman whose smoldering body was found in a Long Island dumpster yesterday–with the caption: "Who didn't want him dead?"
The story, labeling Mr. Sark a "millionaire Hasidic slumlord," detailed the 39-year-old father of eight's allegedly shady business practices to argue there could be many potential suspects for his murder.
But Mr. Stark also has many defenders, as demonstrated this afternoon at a press conference called by local pols to slam the Post's coverage.
"Who did not want him dead? Who didn't? His children did not want him dead," declared newly-elected Brooklyn Borough President Eric Adams, speaking at his first major event since taking office at the start of January.
He was joined by members of Brooklyn's Orthodox Jewish community, who filled Brooklyn Borough Hall's large rotunda, lining the walls and staircases, clapping and cheering as other officials and community leaders shared their anger.
"This is outrageous and unprofessional," railed Councilman Mark Treyger, holding up the offending cover. "His grave is still fresh. He should not be put on trial! We need to find justice for his family."
"In this country, we have freedom of the press. Is this freedom of the press? This is an outrage!" fumed Assemblyman Joe Lentol, who represents Williamsburg. "We all have faults! Does anybody with faults deserve this kind of treatment?"
Councilman David Greenfield went even further, comparing the coverage of Mr. Stark to Osama bin Laden.
"New Yorkers, we're a jaded bunch … We expect many bizarre things on the cover of our tabloids. But the one thing we do not expect is to literally kick someone while they're down, and to condone the murder of an innocent victim. And that's exactly what occurred in today's New York Post," he argued. "Even Osama bin Laden, when he made the front page of the New York Post, he–a terrorist who killed thousands of our citizens–got better treatment."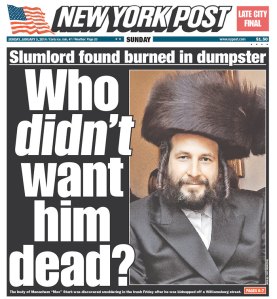 On and on the speakers raged. Public Advocate Tish James called on the city's government to cease buying ads in the Post for public notices, causing the room to erupt into applause. Two speakers referenced the Holocaust. ("If the Holocaust has taught us anything it is this: We need to condemn hate and hateful speech in its infancy," one community leader said.) Many said they expected an apology in the paper tomorrow. "On the front page," insisted Mr. Greenfield.
Such an apology would not appear likely, however. The New York tabloid is no stranger to controversy and has not been especially eager to apologize over past controversial incidents.
Reached for comment, a Post spokesperson stood behind the paper's reporting, but offered sympathy for the grieving family.
"The Post does not say Mr. Stark deserved to die but our reporting showed that he had many enemies, which may have led to the commission of this terrible crime. Our thoughts and prayers are with the family at this time of loss," the spokesperson said in a statement.
But Mr. Adams was unimpressed with the response.
"The New York Post's response does not answer the call for a full apology. The mere fact that someone had enemies does not explain away their kidnapping and murder, nor does it excuse a front-page cover that asked, 'who didn't want him dead?' To truly express remorse, the Post must publish a formal apology to the Stark family in tomorrow's paper; that is the bare minimum we should accept," remarked Mr. Adams.