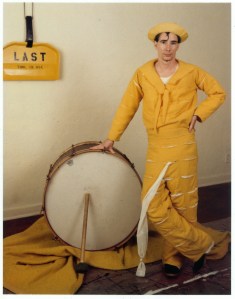 Adapting the title of the Ben Stiller flick in which a night guard is imperiled by museum exhibits that come alive is nothing new for parties organized by the museum world. Some institutions do a Night at the Museum as a fundraiser. The American Museum of Natural History, the setting for the movie, has its own nocturnal series, essentially a $145 per person sleepover for 6-13 year olds. MoMA P.S.1's Night at the Museum last Saturday, owing to the subject of the exhibition on view—the late Mike Kelley, who killed himself in 2012, and whose work, as many critics have noted, often suggests repressed childhood sexual trauma—had a very different resonance.
It's easy to imagine that Mike Kelley did his best work in the wee hours. Giant orbs composed of fused stuffed animals, a tapestry that reads "Pants Shitter and Proud of It. Masturbate too. And I wear glasses," illuminated sculptural reimaginings of Superman's home planet Krypton—it all speaks to the sensibility of an insomniac teen, making art that references both personal and cultural myths, in a basement rec room. "This feels like a bit of a memorial," observed art dealer and personal shopper for Jay-Z Jeanne Greenberg Rohatyn, standing in front of a piece composed of a stuffed animal resting on a blanket. The boom box behind it provides the animal's sad sack voiceover. "It's a time to contemplate someone who lived this vampiric nighttime life," she said. "I wanted to experience the show at night."
Others had more prosaic reasons for attending. Vanity Fair photographer Todd Eberle was there with art scribe Linda Yablonsky. "He had a car," she shrugged. (It was snowing Saturday night. This was a fair enough reason to be present.) Flitting from floor to floor amidst rumors that he was hosting a "secret drinks" event in his office was the museum's white haired director, Klaus Biesenbach.
The aura surrounding the Kelley show stems not just from the fact that he's never had a proper retrospective in New York, but also from the artist's untimely death, an event that made his grotesquely funny work err more on the side of just grotesque. With the show closing on Feb. 2, a grab bag of arty folks including Larry Gagosian (Kelley's dealer), Peter Brant, Spike Jonze, and Cindy Sherman, got together to fund the after-hours party. It came complete with a kind of "lounge" in the museum's performance dome. The staff of M. Wells, the epicuriously ambitious little restaurant in an old classroom on the museum's premises, acted as de facto caterers. Long Island City on a freezing night would seem like a hard sell, but before the crowd arrived in droves, they were anxiously psyching themselves out in preparation for serving pickled duck hearts to 2,000 attendees.
Still, the Mike Kelley show was a strange context in which to let loose. For instance, a video included in the museum's recreation of the artist's landmark "Day Is Done" exhibition, an omnibus survey of "socially accepted rituals of deviance," features satan himself mocking a frightened boy getting a haircut, accusing the child of having a "pussy mouth." It was only natural, as the night wore down—or, for some, ramped up—that a good portion of the crowd gravitated from the museum to the performance dome in the courtyard outside, where cans of usually cheap beer cost $6 and people lounged on red cushions stacked on the floor. Packed with dimly lit youth in puffy winter coats, the place looked like a planetarium that some misfits had tried to convert into a ski lodge, then sort of given up halfway through. It was both creepy and comical. In fact, it looked very Mike Kelley.