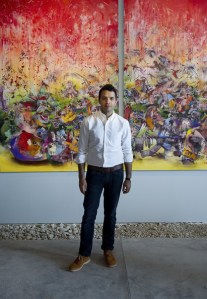 A native of Tehran, the artist Ali Banisadr immigrated to New York as a child, a refugee of the war between Iran and Iraq. It was his experience as a victim that in large part informs his work, which evokes "displacement, memory, nostalgia and violence," in the estimation of one gallerist. Mr. Banisadr's experience was no doubt life-altering, but we would say that more or less any serious artist—working in more or less any medium—tends to check those thematic boxes at one time or another. Take the Notorious B.I.G., for example, who can cross off all four in a single song! (To wit: "Things Done Changed," the opening track off Biggie's 1994 debut album Ready To Die.)
And now, Mr. Banisadr shares the legendary rapper's old neighborhood—in addition to his artistic concerns. He's just purchased a penthouse apartment at 105 Lexington Avenue in Bedford Stuyvesant for $1.25 million, according to city records.
The three-bedroom duplex is located in an elevator building known as the Lot 58 Lofts, which, in a progression that has lately become familiar—very nearly tiresome, really—was used originally as a frozen food factory, before being converted to artist studios and, finally, to upmarket condos. Nearly 1,650 square feet of interior space are complemented by 657 square feet of private roof deck, from which the Manhattan skyline is visible. (Although, clearly, Bed-Stuy is moving away from its long-held status as "the end of the dock," and closer to being the green light itself.) "Hip and historic Clinton Hill is right out your front door," crows the listing, which was held by Alexander Maroni and Bren Salamon at Douglas Elliman. And just inside: Bosch stainless steel, a Jacuzzi tub and granite counter tops. The Bedford Stuyvesant of "Machine Gun Funk," this is not.
"Fishing For Souls," "Creation" and "Canto 28″—a representative sample of Mr. Banisadr's loftily-titled canvases—feel closer to the neighborhood's emergent mood. Having displayed his paintings, which are colorful and disquieting—depicting figures at once abstract and humanoid—in the Met, the Saatchi Gallery and the British Museum, among many illustrious others, Mr. Banisadr seems a fitting occupant for the fanciest unit in this former workplace of struggling artists.
The seller, Galila Riss, a designer and the owner of Motif 56—which specializes in handmade Moroccan-themed belts, bags and cuffs—has been on to this whole Brooklyn thing for years, having run a retail outlet on Court Street in the early aughts. She's made out well being an early-mover, clearing even a bit more than her $1.199 million ask. And in 2011, when she bought the place, her winning bid was just $850,000, more than 30 percent less of the closing price, this time around.