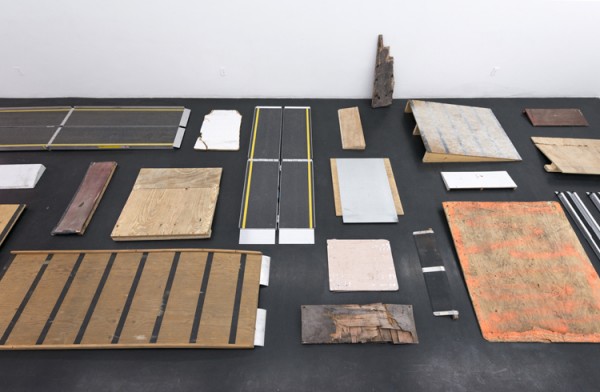 Unless you are in a wheelchair, or have spent time with someone who is, it's unlikely you have ever stopped and stared at handicap access ramps, much less had to wait around for someone to fetch one. Artist Park McArthur has collected 20 of these objects—most borrowed from Downtown arts institutions that are located a few steps above street level—and put them on display at Essex Street, to surprisingly complex aesthetic effect.
The ramps are made from spare, and in many cases repurposed, materials like a cabinet door, plywood, chipboard and metal; most show at least a bit of wear. At first glance, they look like contemporary sculpture of the "Unmonumental" school, celebrated in a 2007 New Museum exhibition of that name.
They invite a bit of questioning: Can we judge—or at least begin to discern—the ethos or political commitment of each institution based on the quality of its ramp? The Whitney Independent Study Program and Soho nonprofit Recess Activities have handsome, professionally designed models by a company called EZ-Access, while those from the Team and Audio Visual Arts galleries look lovingly handcrafted. Two of Essex Street's own are comparatively makeshift and battered. (One is broken; the other is out of commission now that the gallery has poured a concrete ramp.)
While these ramps are serving as sculptures, the venues that loaned them are displaying blue rectangular signs that explain they are not accessible to the handicapped at the moment—they are required to post this by law—and that direct visitors to the show. (The price of each work includes a fee to replace the ramp.) Ms. McArthur has hung five blank versions of these signs high on a wall, like Malevich's famous monochromes—they're icons of access. A news release notes that many of these ramps were actually purchased or produced specifically to provide entry for Ms. McArthur, who uses a wheelchair. It makes you wonder what else could be changed—what else could be opened up—if artists only asked.
(Through Feb. 23, 2014)