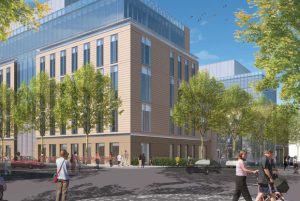 Daniel Kummer, chairperson of Brooklyn's Community Board 6, appeared weary at last night's meeting before debate even began on a motion concerning zoning variances requested by New York Methodist Hospital, in connection with a planned expansion of its Park Slope campus. Though the board would approve the plan by the end of the night, the meeting, like the expansion itself, proved somewhat contentious. (Some neighbors have implied that the expansion would lead to nothing less than the destruction of the neighborhood.)
The meeting followed a vote Monday at the CB6 Landmarks/Land Use Committee, which recommended that the board grant conditional approval to the most recent iteration of NYMH's plan—a 152-foot-tall ambulatory care facility on a site that currently holds 16 townhouses—itself the result of considerable back and forth in the preceding months between CB6 members and hospital representatives. The subject had also been the source of extensive and occasionally acrimonious internal discussion: "As you cannot help but be aware," Mr. Kummer said, "we've mentioned this a few times before."
The board had received a letter from NYMH earlier in the day committing with one exception to the board's conditions and Mr. Kummer, who works as senior legal counsel for NBC delivered an eloquent address in favor of the motion's approval. (Thinking his language might "go further in expressing an opinion than the rules of parliamentary procedure would allow," he first abdicated temporarily the position of chair.)
"The most important context in which to consider this is the 2003 rezoning of Park Slope," Mr. Kummer said. That rezoning, he continued, ensured strict height limitations that had helped to preserve the neighborhood's brownstone character. The NYMH campus had been exempted from those restrictions, and now, he said, the hospital sought to "blow through" existing code in a portion of the neighborhood, mid-block on 5th Street, that had not been carved out for exemption in 2003. (This was the exception to NYMH's acquiescence.) "I was as personally disappointed as many others," Mr. Kummar said, regarding how the hospital had not adhered to the height limits for that portion of the facility. There were, nonetheless, good reasons to vote yes.
If the board voted down the motion, it would lose any standing to contribute going forward to the planning and approval process, though the community board's role is strictly advisory. Further, NYMH owns enough land in the neighborhood to scrap discussions altogether and replace the existing proposal with two large, slim towers, which would be unsatisfactory to both residents and hospital reps. "It would be far less nuanced," said board member Peter Fleming. "Those are what we don't want."
Another board member, Sayar Lonial, took a stronger tack: "The character of this neighborhood is ever-changing and always strong," he said, speaking with forceful conviction. "I think it's wrong to ask for changes. We should approve the plan as presented. It's important to support hospitals that want to expand, while some are saying that they can't stay open." Mr. Lonial was referring, presumably, to the looming threat of hospital closures in Cobble Hill and Bed-Stuy, and drew groans from the back of the room. One man shouted: "Where do you live?!"
An amendment was advanced, debated heatedly and withdrawn. Another was added without a vote. Mr. Kummer furrowed, frowned and squinted with avuncular exasperation. The motion passed 27 to 4.