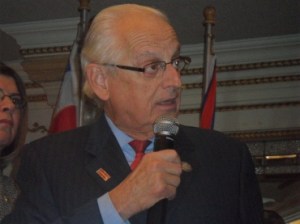 HOBOKEN – Steve Lonegan's interest in a CD 3 seat has Democrats already cackling with glee.
"It's great for us," U.S. Rep. Bill Pascrell (D-9) told PolitickerNJ on his way out of Hoboken Mayor Dawn Zimmer's swearing-in ceremony. "If he wins a [Republican] Primary, that is great news for us."
Pascrell routinely savages the Tea Party movement and right-wing views as a chief source of federal government gridlock.
Lonegan is an arch conservative who last year during his unsuccessful U.S. Senate run told News 12's Luke Margolis that he advocated turning away federal Hurricane Sandy aid.
Comments like that have some Republican Party leaders squirming in CD3, half of which hugs the shore, where U.S. Rep. Jon Runyan (R-3) plans to retire after his current term in Congress.
The Burlington County GOP this afternoon screened potential candidates for the seat, including former Randolph Mayor Tom MacArthur, who this week opened a campaign account totaling $1 million.
Sources say both Burlington County GOP Chairman Bill Layton and Ocean County GOP Chairman George Gilmore like MacArthur.
But the fact that the Randolph politician doesn't live in the district and is an unknown quantity in CD 3 has energized Lonegan, who in a Republican Primary match-up with MacArthur wouldn't have to sweat the carpetbagger tag.
Another option, the well-liked Evesham Mayor Randy Brown, can't raise the requisite big bucks, one GOP source moaned.
A fourth interested party, John Giordano, is in his late 30s but, according to one Republican source, looks 20.
NJTV's Michael Aron yesterday tweeted that Lonegan's buying a house in Ocean County, which the once and apparently future candidate promised he would do to PolitickerNJ.com.
"He looks like an idiot," a Hudson Democratic Party operative told PolitickerNJ.com today at Stevens Institute as Zimmer raised her hand to take her second-term oath. "Imagine, running all over the state in search of a district that will have him. He ought to move to Alabama and run."
Among those at the microphone in support of Zimmer were the man who beat Lonegan in 2013, U.S. Sen. Cory Booker, U.S. Sen. Bob Menendez, former Gov. James Florio, Jersey City Mayor Steve Fulop, Speaker-elect Vincent Prieto (D-32), Hudson County Executive Tom DeGise, and Democratic State Party Chairman John Currie.
So was Pascrell, who lauded Florio for his leadership as governor. The two Italian-American political allies go back to the early eighties.
As for Aimee Belgard, the Burlington County freeholder running for the CD 3 as a Democrat, Pascrell said he doesn't know her but looks forward to helping her – especially if the GOP opts for Lonegan.