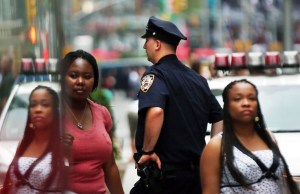 Nearly escaping oncoming traffic is like a rite of passage for every New Yorker.
It's also a terrible idea. So far this year, 11 pedestrians have passed away in accidents with vehicles, four this past weekend.
Last week, Mayor Bill de Blasio announced his "Vision Zero" plan to eliminate pedestrian deaths, from jaywalking to speeding.
"This will be a top-to-bottom effort to take on dangerous streets and dangerous driving," he said. "From tougher enforcement to more safely-designed streets and stronger laws, we'll confront this problem from every side—and it starts today."
As part of this plan, NYPD officers will be writing more speeding tickets and cameras will be added to certain intersections.
"We can't wait any longer. We should not be studying this any longer. We should be getting out there and being proactive and making it very clear to those driving cars, trucks, and ambulances you got to be careful. There's human life out there," City Comptroller Scott Stringer told CBS 2.
If reports today are any indication, the NYPD has set jaywalking as a primary target, writing tickets ranging from $40 to $250 depending on the violation. Mayor Rudolph W. Giuliani paved the way for a move like this when he raised the fine for jaywalking from $2 and made it a police priority in 1998. Cops, journalists and residents of the city scoffed at him.
"I just don't think that walking across the street is a crime, and I wouldn't feel comfortable getting down on people for doing it," an officer said at the time.
Many people felt like there were bigger fish to fry and spending resources on jaywalking seemed silly. Jaywalking is commonly known as a last resort for officers looking to arrest someone they deem suspicious but lack the proper cause.
"What about homelessness or crime, or renovating old buildings so they don't fall on people?" Davenie Petta, 24, told The New York Times. "These are real problems in the city, not jaywalkers."
And New Yorkers might have a problem adjusting, a few decades later. Yesterday, 84-year-old Kang Wong was stopped by an NYPD officer for jaywalking  at the intersection of  West 96th and Broadway, the sight of three deaths in eight days. Not understanding the officer, Mr. Wong began walking away while the officer was writing the ticket. After Mr. Wong and the officer scuffled, Mr. Wong was cuffed and sent to St. Luke's hospital before being taken to the 24th Precinct station house.
While we agree with Mr. de Blasio that 2014 has not been the safest year for pedestrians, it will be take more than a ticket to make New Yorkers walk his way.