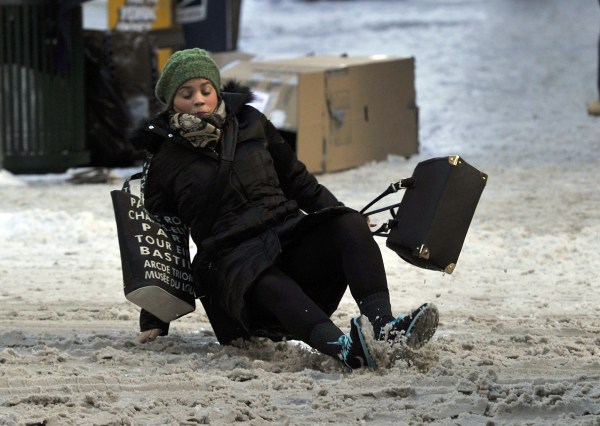 It's snowtime!
Tourists to New York City were treated to a frost-tacular display as Mayor Bill de Blasio "botched" his second clean up.
Those visitors who made it to Times Square amid citywide delays and slushed streets reached the Crossroads of the World to find themselves in a ghost town.
Rather than finding hoards of costumed characters, a lone Cookie Monster was there to greet them.
"I have two children, so I have to work," he told The Observer, between texts. The tourists were distracted from the usual sights and sounds of Times Square, instead focusing on the weather.
"We're enjoying just watching all the chaos," Lisa McKibben, an Australian, told us. "It's very different from where we're from, so the novelty hasn't worn off yet."
Indeed, people from all over the city have found themselves in a bit of chaos, with whole neighborhoods blasting Mr. de Blasio for letting the snow get the best of us. No doubt, people visiting from Iceland would have a good laugh at our panic.
"I came from Wisconsin. I'm used to it," Angela Jackson, a tourist from Wisconsin, said. Her flight out was cancelled yesterday, so she spent her extra time walking around the paralyzed avenues properly dressed. 
Visitors from warmer countries did not find the weather, or the city's response, as humorous.
"I like it. I like the cold weather. This is my first snow," Angela Bianheino of Brazil told The Observer. "It was a little bit violent..but I love it."