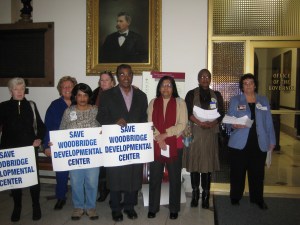 TRENTON – Advocates delivered what they said were 10,000 signatures and a petition to the governor's office Tuesday in an attempt to keep two northern New Jersey developmental centers open.
The family members of center residents are hoping they can convince the state not to close Woodbridge and North Jersey developmental centers.
The emotions behind the crusade were summarized by Deborah Smith of Paterson, whose 43-year-old daughter Kesha is a profoundly disabled resident of North Jersey Developmental Center in Totowa in Passaic County.
Smith said they were given two choices: Move Kesha to a group home or to a developmental center in far Southern New Jersey.
"It's very stressful and I get upset thinking about it," Smith said, "the thought of her that far from us."
She said that at the North Jersey facility Kesha receives care that, among other things, has brought under control the 50 to 100 seizures a day she used to suffer from.
"One size doesn't fit all,'' Smith said of the prospect of her daughter moving to a group home.
And Marylyn Carr, of Woodbridge, whose son Eugene Francis Carr has lived for 37 years at the Woodbridge Developmental Center, said she chose where to live because she wanted to make sure she could remain close to him.
"I wanted to be close so he knows I'm there,'' she said. "He is used to the people who work there. He gets excellent care.''
The issue of downsizing or closing centers outright has been filled with emotion for parents and other relatives concerned about where their loved ones will end up.
Sherrie Preische, a spokeswoman for the grass-roots organization, Save Residents' Homes at Developmental Centers, said they have reached out to and received support from Sen. Joe Vitale and Assemblyman Valerie Vainieri Huttle.
Huttle co-sponsored a bill, A3870, which has passed in the Assembly, that would mandate there be at least one developmental center retained in each region of the state.
The companion bill co-sponsored by Vitale and Sen. Jennifer Beck, S2746, has not had a hearing yet.
The state plans to close two Northern Jersey centers within about four years as the entire field of caring for such disabled residents changes due to several factors, including budgetary pressures and evolving philosophies on least-restrictive care.
But the advocates who delivered the petition today said that the residents who make up the dwindling populations at the developmental centers are the people with the greatest combinations of physical and mental disabilities who require the most intensive care.
"They are the most vulnerable population of the disabled community," Smith said.
The state has consistently said that the money saved from shifting away from the large developmental centers will help fund better care in smaller, more individualized settings in communities.
The closure of the two Northern Jersey centers was recommended in a 2012 report by a state task force. There would be five left open, including centers in Woodbine in Cape May County; Vineland in Cumberland County; New Lisbon in Burlington County; Clinton in Hunterdon County; and Green Brook in Somerset County.