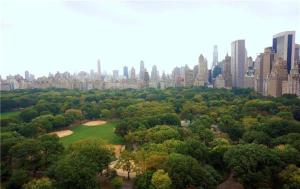 A mysterious buyer, hiding—as mysterious buyers will do—behind the camouflage on an LLC, is scooping up property in the Century Condominium building, at 25 Central Park West, The Observer has learned. A three bedroom condo on the 27th floor has just sold for $8.575 million, according to Stephen P. Wald's Laura Gruber, who had the listing. The very same buyer, she said, closed recently on a floor-through two stories up, in a $14 million deal. The 27th-floor combo was last available 24 years ago, when Ms. Gruber sold the apartment to a man who has lately decided he's held on to the property long enough.  
The unit boasts deep, sweeping views in four directions, taking in Central Park and Fifth Avenue skylines. Attached in deed—if not in fact—to the 2,200 square-foot condo, in a strange play on the upstairs-downstairs dynamics of old, is a maid's room off the lobby. (The listing makes a point of mentioning that the quarters contain a window and a sink. Ooh la la!) Having been in the same hands for more than two decades, though, the unit might need a wee bit of tending. In fact, "it needs a gut renovation," Ms. Gruber said.
An Art Deco 1931 construction of Irwin S. Chanin design, the Century stands on the site of the doomed Century Theater, which was known variously as the "Century Opera House,"  "New York's most spectacularly unsuccessful theater," and a
"shrine of snobbery." Ninety years old, Italian and a professor emeritus of political science at a prestigious New York university, the apartment's former owner most assuredly has sophisticated tastes. But he shares none of the old theater's arrogance. A full-time resident of Rome, the seller, who wishes to remain anonymous, was receiving dozens of inquiries from other brokers eager for his listing, but he remained loyal to the agent that had helped him through a difficult deal all those years ago.
"Frustrating?" Ms. Gruber asked us incredulously. "It was probably the craziest deal I ever did." At the time, the apartment was divided in two, and there were two owners to contend with. "The owner of the one bedroom was certifiably nuts." It took a year of successively higher offers before the deal closed. "The fact that it went through at all was amazing to everyone."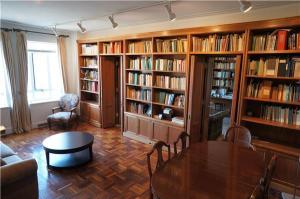 "I was happy that I was able to aide him to make such a nice return on his money," Ms. Gruber said of the recent sale. "It is also nice to know there is still loyalty in this crazy Manhattan Real Estate market." The purchase price for the two units 24 years ago? No more than $450,000.