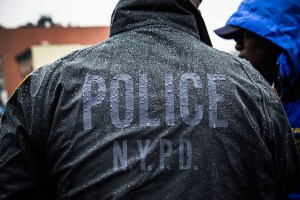 The city's Patrolmen's Benevolent Association today questioned the benefits of speed cameras, which Mayor Bill de Blasio has been touting as part of the "Vision Zero" plan aimed at dramatically cutting traffic fatalities.
"Speed cameras will certainly raise revenue for the city but they cannot do the job of a live, professionally trained police officer who, having stopped a speeder, may make an arrest for driving under the influence, driving without a license or insurance or even worse offenses like carrying an illegal weapon," said PBA President Patrick Lynch in a statement.
Mr. de Blasio recently announced that one of his priorities in Albany would be pushing for city for control over both red light and speed cameras installations–both currently fall outside of the city's jurisdiction. The mayor repeated his advocacy on the issue this morning during a HOT 97 radio interview.
"We have some we've put in that we then in recent days turned from cameras that give a warning to cameras that give a very substantial fine if you go through the red light. We've got a bunch more we're going to be putting on line soon," he said when asked why the city can't just install more speeding cameras in problem areas like the Upper West Side. "But here's the bottom line: We need the legislators in Albany to give New York City the right to put in as many as we need … Albany should not stand in the way of doing what we have to do to protect our own people."
But Mr. Lynch, whose members' jobs are arguably somewhat supplanted by the cameras, argued the devices are flawed tools to rely upon.
"In our experience, a person who violates one law is likely to have violated others. We view traffic enforcement as an opportunity to take the dangerous drivers and criminals off the road that a camera can't," he said. "The city would be better served and public safety could be vastly enhanced by hiring more police officers and assigning them to traffic enforcement."