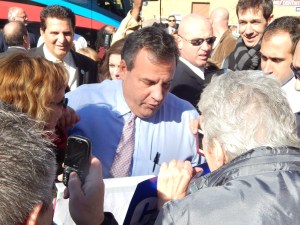 TRENTON – One pollster said Wednesday that today's revelations about contact between the Port Authority and the governor's office over the Fort Lee lane closures will have implications for his potential presidential aspirations.
The revelations of email contact will make it more difficult for Gov. Chris Christie to distance himself from this controversy, said Monmouth University pollster Patrick Murray.
"The question we still have is what did the governor know and when did he know it,'' Murray said after emails surfaced that showed communication between N.J. appointee David Wildstein and Bridget Anne Kelly, Christie's deputy chief of staff for legislative and intergovernmental affairs.
The emails were subpoenaed by Assembly Transportation Chair John Wisniewski as part of an ongoing probe into why lanes were closed, causing gridlock at the world's busiest bridge, for several days in September.
"Obviously this is somebody very close to him," said Murray, director of the Monmouth University Polling Institute. "It is still possible that it was someone within the governor's office acting on his own, which gives the governor the ability to create some distance between him and the issue, although it makes it harder for him to do that."
Kelly, a member of Christie's senior staff, told Wildstein in an email that it was "time for some traffic problems in Fort Lee" in August just weeks before a controversial lane closure, according to the documents.
The speculation was that the lane closures were retaliation because the mayor would not endorse Christie's re-election, but Christie has been adamant he had nothing to do with what happened at the George Washington Bridge.
Wildstein, a former PolitickerNJ editor, has been subpoenaed and was expected to appear before Wisniewski's committee Thursday.
But a larger question for Christie could be how this affects his presidential aspirations.
"The question is,'' Murray said, "is what kind of people is the governor hiring, or what kind of impression is the governor giving to people around him."
"Did he create a culture or allow a culture to exist where these kinds of things happen,'' he said.
It could go to the question in anticipation of a presidential campaign of who Christie would surround himself with.
Murray said that the fact the documents link Wildstein to somebody "actually in the governor's office'' ensures this controversy is going to continue, and it makes it easier for Wisniewski's subpoena power to be continued.