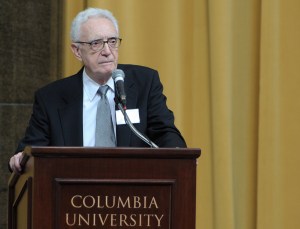 Pulitzer Prize administrator Sig Gissler will retire this summer, Columbia University announced today.
Mr. Gissler, 78, previously worked as an editor of the Milwaukee Journal and a professor at the Columbia Journalism School, which he joined in 1994. He took over as Pulitzer administrator in 2002.
The Pulitzers attracted condemnation in the publishing world in 2012, when a jury decided not to choose a winner in the fiction category. (A fiction award has not been given 11 times since 1917, the year the Pulitzers were started.)
A committee, chaired by Danielle Allen, professor of social science at the Institute for Advanced Study in Princeton, has been formed to choose the next administrator.