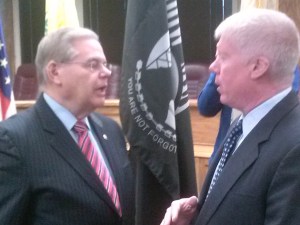 BRICK – U.S. Sen. Robert Menendez (D-NJ) wants Housing and Urban Development Secretary Shawn Donovan to reassess how New Jersey distributes money to storm-ravaged residents.
"I want the federal government to require more from the state in terms of its process," said Menendez, who visited Brick today to urge Congress to pass the Homeowner's Flood Insurance Affordability Act to aid Sandy-rocked New Jersey communities.
The U.S. senator said he's worked with Gov. Chris Christie on Sandy recovery and stayed in contact with the Republican governor throughout the aftermath of the 2012 superstorm that turned over the state.
But, "I am concerned. People come to me and tell me, 'I have not gotten access to [money].'"
Menendez said the feds have to re-examine how to make New Jersey more accountable.
State Department of Community Affairs Commissioner Richard E. Constable, III, offered a statement in response.
"We will continue to partner with Senators Menendez and Booker and our entire congressional delegation to work to eliminate federally mandated bureaucratic hurdles that have stymied the State's ability to get CDBG Superstorm Sandy recovery aid out quickly to storm-impacted residents, businesses and communities," Constable said.
The U.S. senator made his comments as he doubled down on his own flood insurance legislation, which Congress will again take up this month, and which the senator hopes will be put to a vote.
"Even as they recover from the worst natural disaster in our state's history, homeowners are being faced with a manmade disaster in the form of skyrocketing flood insurance premiums," said Menendez. "This legislation simply provides temporary relief to property owners – many here in Brick – who played by the rules and are now poised to see their most valuable asset become worthless through no fault of their own."
Menendez made his appearance a day after the swearing-in ceremony of Brick's new mayor: Democrat John Ducey, who said he was proud to welcome the senator to this Ocean County town on his second day as mayor.
"It is very important for people to get back into their homes and be able to afford to stay in them rather than be forced out by high flood insurance rates," the mayor said.
Menendez's bill, co-sponsored by U.S. Sen. Cory Booker (D-NJ), would freeze federal flood insurance premium increases on most properties impacted by the new Flood Insurance Rate Maps (FIRM) "until FEMA completes an affordability study, provides solutions to mitigate their affect and scientifically certifies their accuracy," according to the senator's office.
Post Sandy insurance claims nearly bankrupted the National Flood Insurance Program, and in 2012, Congress passed the Biggert-Waters Law to restore its solvency.
Drastic rate increases mandated by Biggert-Waters are stifling homeowners like Peggy Malloy of Point Pleasant and Meg Kelleher, who today appeared with Menendez in Town Hall.
"I pay $850 a year in flood insurance," said Kelleher. "If the payments go up into the thousands, there's no way I can afford it."
"There remain millions of people that have no knowledge of how negatively affected they will be if Biggert-Waters Act of 2012 is implemented without the amendments proposed by Senator Menendez," added Ron Jampel, founder of the group Save Our Communities, which is comprised of Sandy survivors along the Jersey Shore.
Menendez's legislation has 28 co-sponsors in the Senate, eight of them Republicans, and has the endorsement of the National Association of Realtors, the National Association of Homebuilders, the American Bankers' Association, the Independent Community Bankers' Association and the National League of Cities.
"Flood insurance isn't just a coastal issue or a Northeast issue – it's an issue that affects every state," Menendez said. "The fact is every state has properties covered by the National Flood Insurance Program – and every state will see premiums on some of those properties increase."
The senator acknowledged the harder task of convincing the U.S. House of Representatives of the efficacy of his legislation – where he needs 218 aye votes.
"We have work to do," he said, noting regional Republican resistance.
Not all of the members of New Jersey's Congressional Delegation support Menendez's legislation.