Brooklyn, as we all know, is not merely a place, but an idea, an image, a brand. The borough's most attractive and—depending on who you talk to—annoying qualities and products have been exported out of state and across oceans, over hill and dale, to far flung regions of the earth. There are no doubt many parties responsible for this phenomenon, but Lara Fitch, CEO and founder of the website, retailer and lifestyle chronicler Strolby, is certainly among them.
Offering twee clothing, tchotchkes, toys and home goods from Kings County's most local and authentic boutiques, Strolby "helps little shops reach big audiences so our neighborhoods can still feel small." Given her commitment to the borough where she has lived for some 10 years, we can only guess that she and her husband Ted Lazarus, a lawyer for Google, will not abandon it now that they have sold for $1.75 million their condo at 659 Carroll Street, in Park Slope.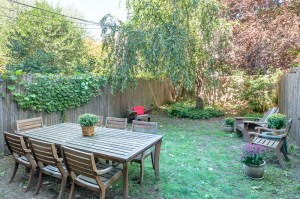 And a fine specimen of brownstone living it is. With three bedrooms and nearly 1,700 square feet, the duplex would make an ideal space for Manhattanites fleeing the island with babes in arms—or merely in mind. (We cannot say, though, whether the buyer, one Malcolm G. Bird, has himself lately had a visit from the stork.)
The home boasts radiant heat and a wood burning fireplace, high-end kitchen appliances, honey-blond flooring and crown molding a-plenty. A meticulous gut renovation has brought "the best of today's amenities to a classic," according to the listing, which was held by Charles Ruoff at Brown Harris Stevens. And the unit's outdoor space is as inviting as its interior: in the backyard, a garden featuring a weeping cherry tree lends the home a bit of cozy suburban appeal.
As Brooklyn has spread its tentacles beyond New York's borders, a certain kind of Brooklyn life—the precious, artisanal sort Ms. Fitch's website celebrates—has meanwhile extended its reach within borough limits. To a list of neighborhoods fit to accept West Village refugees that once included only Park Slope and Brooklyn Heights, we may now add Williamsburg, Boerum Hill, Bushwick, Carroll Gardens, Prospect Heights… and on and on. There are, in short, more boutiques in Brooklyn than Ms. Fitch will ever be able to get to. From wherever her next base is, however, we're quite sure she'll try.