He fought the good fight. 
CNN anchor Jason Carroll had no idea what he was getting into when he was dispatched to cover the Polar Vortex at Columbia University on Tuesday night.
Schools across the East Coast were cancelled because of Winter Storm Janus and the uptown Ivy League campus was no exception.

At Columbia, tradition has it that after every big storm, hundreds of students gather in Low Plaza for a big ole' snowball fight. Mr. Carroll tried to keep his cool during the melee, but was quickly pummeled by seemingly drunken students as they stumbled around in celebration.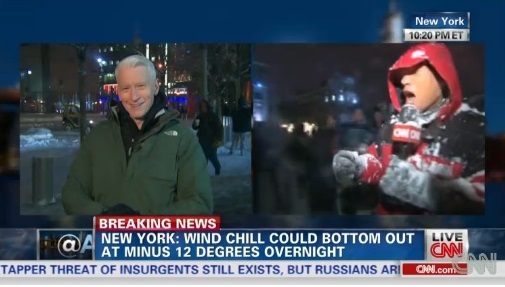 Co-ed after co-ed sprayed snow on the reporter and his cameraman, apparently to the delight of Anderson Cooper, who had a good laugh at Mr. Carroll's expense. Eventually, Mr. Carroll lost his composure and decided to fight back. "I need defense out here," he shouted as the segment ended.
Perhaps the school should think about updating their mascot to the snow lion?
[protected-iframe id="4453755d2e04914a7726a31fe6e0526d-35584880-41847290″ info="http://www.cnn.com/video/api/embed.html#/video/bestoftv/2014/01/22/ac-carroll-snowball-fight.cnn" width="100%" height="400″ frameborder="0″]