The Week just voted Going Clear, the devastating account of Scientology by Pulitzer-Prize winner Lawrence Wright, the best non-fiction book of the year. I just finished it. It's un-put-down-able.
A few striking things emerge from the book. The first is the near absence of the word God. So what do Scientologists worship? According to Wright it's celebrity and fame, which is why Tom Cruise occupies such a central place in the faith. "[Cruise] was the embodiment of Hubbard's vision of a church with temples dedicated to celebrity rather than God."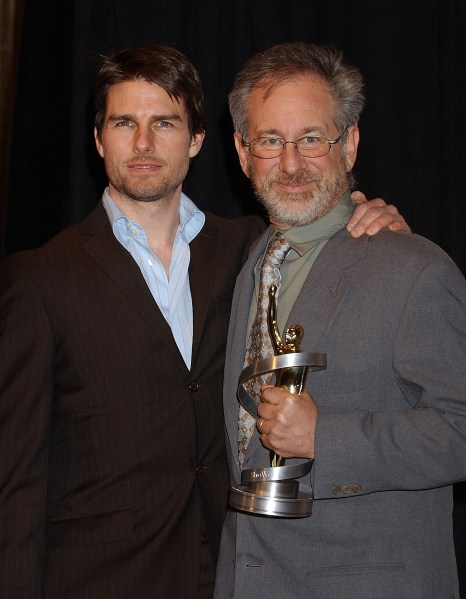 According to Wright, Cruise, whose devotion to Scientology is legend, designed, in about 2005, the biggest "get" that Scientology could possibly aspire to, namely, to "draw the most powerful man in Hollywood into Scientology." At the time Steven Spielberg was directing Cruise in War of the Worlds and Spielberg had apparently said to Paul Haggis, the Academy-Award winning writer of Million Dollar Baby, "I've met all these Scientologists and they seem like the nicest people."
Haggis would later denounce his membership in Scientology as having been "in a cult for thirty-four years."
Nothing more is mentioned about why Cruise failed in his aspiration and Spielberg obviously remains a loyal and devoted Jew. But the sheer brazenness of a small, modern, and highly controversial religion to pluck away from Judaism the man who had made Schindler's List and who founded the Shoah Foundation Institute, with its goal of obtaining taped testimony from every Holocaust survivor, is absolutely striking.
Which got me to thinking. How is that Israel is attacked and vilified nearly every day, and increasingly from Hollywood stars, without Jews having recruited a single high-profile celebrity to galvanize Hollywood's biggest names — especially Jews — to stand with Israel.
Recently I wrote of Pink Floyd founder Roger Waters vile comparison of Israel with the Nazis. I am not famous like Barbra Streisand, Steven Spielberg, Dustin Hoffman or Natalie Portman. Where were they to protest this despicable, anti-Semitic tirade?
I'm not blaming them so much as I blame the leaders of the Jewish community for failing to recruit them — not to another faith but to their own. Is it a lot to ask someone like Seth Rogen to condemn the comparison of Israeli soldiers to the SS? Are we asking too much of Adam Sandler to reject allegations that Israel is the Gestapo?
In 2001, Prime Minister Ariel Sharon was visiting New York. I received a call from a friend who was hosting a reception in New York City. Knowing that Michael Jackson was in New York at the time, the friend asked if I would bring Michael to the reception. It would be good for Michael, and good for Israel, he said. I happened to be in Michael's hotel suite when I got the call and asked him if he'd like to meet Prime Minister Sharon. I was honest about the criticism that might ensue; Ariel Sharon was highly controversial, as was Israel. Michael could pay a price among his fans. But he didn't care. He told me he'd love to attend, and that evening I went with Michael, Uri Geller, and Michael's manager to meet the Israeli Prime Minister. The next day the picture appeared in publications throughout the world, including The New York Times.
Michael has been accused by some of anti-Semitism because of the lyrics of his 1995 song, "They Don't Care About Us," in which he sang, "Jew me, sue me, everybody do me/ Kick me, kike me, don't you black or white me."
Then there were his taped comments in 2005 to German adviser Dieter Wiesner that Jews are "like leeches … I'm so tired of it … They start out the most popular person in the world, make a lot of money, big house, cars and everything. End up penniless. It is a conspiracy. The Jews do it on purpose."
I've been asked about this a thousand times and my response has been the same. I took Michael to meet Elie Wiesel on many occasions. Michael spoke to me about the Holocaust on countless occasions. The comments he made about Jews, in my opinion, were made when he was drugged out of his mind. That doesn't excuse them. Still, when Israel needed a major celebrity to welcome its Prime Minister to New York, Michael was there.
Some celebrities are finally beginning to fight back. Last week my good friend Roseanne Barr wrote to me about how disgusted she was by Mr. Waters's comments and publicly vilified him for "using a pig with a Magen David on it to represent 'Zionists' while he simultaneously erases his own country's guilt in creating the entire problem in the middle east, and everywhere else on earth where the Royal Empire devours Tribal homelands/resources ethics, and Law."
At the end of Going Clear, Mr. Wright indicts Tom Cruise for his silence about the abuses of Scientology. "Probably no other member of the Church derives as much material benefit from his religion as Cruise does, and consequently none bears a greater moral responsibility for the indignities inflicted on members of the Sea Org, sometimes directly because of his membership." Wright condemns the many Scientologist celebrities who have not spoken out against "the widespread allegations of physical abuse, involuntary confinement, and forced servitude within the church's clergy."
If we flip it, might the same be said of all those silent Jewish celebrities who see a Jewish state struggling to survive against Hezbollah terrorists, Hamas murderers, and Iranian genocidaires and remain silent while Israel is slowly destroyed?
Rabbi Shmuley Boteach, whom The Washington Post calls "the most famous Rabbi in America," will shortly publish Kosher Lust: Love Is Not the Answer. Follow him on Twitter @RabbiShmuley, and "like" Rabbi Shmuley's Facebook page.