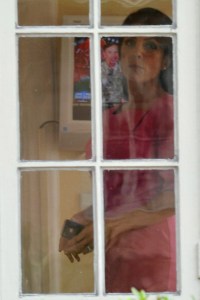 Recent concerns about privacy have centered on domestic spying by government agencies.
Clemency for Edward Snowden and FBI surveillance of Americans in the '70s have both been in the news this week. And Sunday brought the return of Jill Kelley, the infamous air force base yenta who was the catalyst for the downfall of CIA director, Gen. David Petraeus.
Well, I was in the domestic spying business for 10 years as a gossip columnist, and let me tell you: it's not the government you need to worry about.
It's your friends, family and neighbors who know everything about you. And they're the ones who sell you out.
During my decade as a professional snoop—as a Daily News columnist and managing editor of TMZ—a commonly-asked question was, "how do you get your gossip?"
The fact is, most people are tripping over themselves to tell you what they know.
Disgruntled staff members, ex-lovers and jealous neighbors are all natural snitches. But I was shocked at some of the other sources who were willing to undermine those closest to them.
There was the prominent man who married into a brand-name society clan, and bought off his infidelities by feeding the columns a steady stream of items about his step-family.
Then there was the publicist who would leak damning items about his own clients, in order to keep himself employed to do damage control.
Some will even denigrate themselves for publicity. One manager-husband of a c-list celebrity planted the story that he beat his wife, in an attempt to revive her career with sympathetic press.
Sunday's New York Times story on Jill Kelley, the former MacDill Air Force Base social doyenne, conflates these human foibles with growing concern around government domestic spying.
In 2012, Kelley complained to the FBI about harassing emails from Paula Broadwell, the jealous biographer of CIA chief and former Iraq and Afghanistan commander, Gen. David Petraeus. The FBI's subsequent investigation determined Broadwell and Petraeus were having an affair, prompting his resignation.
Now, Kelley is suing three federal agencies and several individuals for releasing her name in connection with the case.
Kelley spins it as a principled stand against Big Brother-style government intrusion. But she is the Real Housewives' version of Edward Snowden, having used the FBI to essentially smack down a rival on the cocktail circuit.
Apparently, she doesn't see any irony in leveraging the role of "privacy advocate" as a way of returning to the public spotlight.
Before the scandal, Kelley used her large home to entertain Air Force brass and foreign dignitaries. That kind of ambitious hostess, spending lavishly in return for proximity to power, would be familiar to anyone on the Manhattan social scene.
She is now banned from the base, amid lingering questions about her own relationship with another general obliged to retire during the scandal, John R. Allen.
Something you learn as a gossip columnist is that people addicted to attention often put misguided faith in the redemptive power of publicity. Kelley's lawsuit, as the Times dryly notes, is "half legal document and half news release."
Broadwell's threatening emails to Kelley were of the "stay away from my man" variety. In New York, if you wanted to shoot down an enemy who had just handed you such prime ammunition, you'd call one of the columns.
But Kelley called the FBI—one of the agencies she is now, somewhat absurdly, suing.  
The supreme irony is that Big Brother—with his spy satellites and meta-data from PRISM and grubby, upturned trench coat collar—had no idea about any of this.
It was a woman in a lipstick-pink cocktail dress, dropping a dime on a social rival, that brought down the head of the CIA.