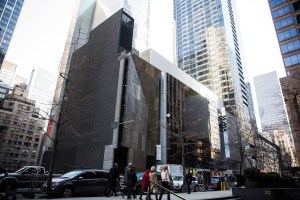 The New York Times followed its coverage of the Museum of Modern Art's expansion plans, which will raze the Tod Williams and Billie Tsien-designed American Folk Art Museum next door, with two new voices criticizing the plan: those of Yale Architecture School Dean Robert A. M. Stern and Frank Gehry.
MoMA purchased the building in 2011, after money troubles forced the Folk Art Museum to leave that space.
Said Stern:
"It's a work of art—especially the façade," he added of the Folk Art building, designed by Tod Williams and Billie Tsien, which opened in 2001. "It's quite an amazing embellishment to the city. I think it would be a great asset to MoMA, because that building is so long and institutional and monolithic.

"While I think it's well intentioned to open the garden to the public, the garden since my childhood was an oasis of quiet," Mr. Stern said. "It was always a wonderful place to spend a half hour or an hour without people marching through it."

Now, Mr. Stern added, that tranquility will be compromised. "It's lost in the galleries," he said, "and I now I think it's going to be lost in the garden."
And Gehry:
"Many architects say they feel badly for their colleagues, Mr. Williams and Ms. Tsien, particularly because the Folk Art building was a breakout project that raised the husband-and-wife team's public profile. "It's devastating to them," said the architect Frank Gehry. "It's like tearing down my house in Santa Monica—it's their kind of beginning."
They join others who have voiced their dissent, among them Paul Goldberger and Justin Davidson.