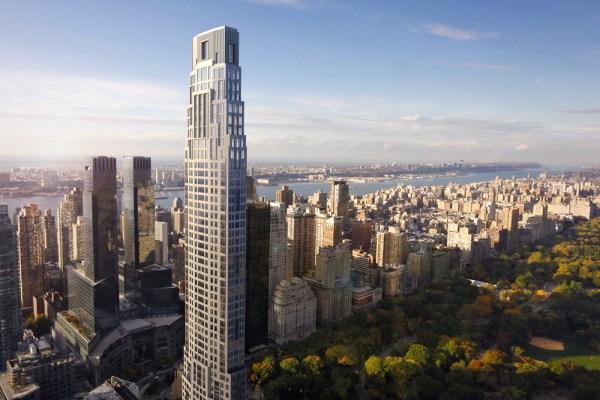 After waiting for nearly a decade to develop its property at 220 Central Park South, tussling first with the residents of the existing building on the site, then with Extell, Vornado obviously wasn't taking any chances when it came to the project's design. The developer tapped Robert A.M. Stern, the maestro of historicist mega-luxury behind three of the city's biggest hits—Superior Ink, 15 CPW and 18 Gramercy Park (though not all of his projects have been runaway successes. Ahem, One Museum Mile)—to carry off its rare foray into residential development. And,  looking at the renderings, which were first published by Curbed, 220 Central Park South may be his biggest hit yet.
Mr. Stern has been criticized for his accessible, super sale-able designs in the past—like Candela, he clearly knows how to give the rich exactly what they want—and this newest skyscraper is likely to cement his reputation. Is the design likely to help Mr. Stern win the Pritzker? No. Will it probably sell out ever faster than 15 CPW? Barring a global economic cataclysm, yes.
The renderings, which have since been pulled from the Sun Lab website where Curbed found them, looks like a super-charged version of 15 CPW: the skyscraper, slated to be a towering 920-feet tall, is clad in limestone—what real macher would settle for simple glass and steel?—with floor-to-ceiling windows to take advantage of insane park views, extraordinarily high coffered ceilings and herringbone wood floors, as well as a vehicle courtyard and opulent entrance with a reflecting pool. A building primed to net those elusive billionaires if there ever was one. Whereas One57 can at times look oddly cheap despite its airplane views and $90 million penthouses, 220 Central Park South looks magnificently expensive, a subtle, luxurious rebuke to all the coolly-refined glass cube apartments rising along the corridor to its south.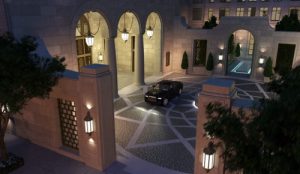 Or maybe not so subtle, at least in the case of One57, which one of the renderings of 220 Central Park South shows unfinished, its ill-fated crane beside it (the crane is no longer up at the almost-finished tower). An coincidence, or a dig at the developer who held Vornado's site hostage with a long lease on the property's parking garage, which it finally agreed to vacate for the not insignificant sum of $194 million last fall? (Vornado also had to shift the position of its tower to accommodate the new super-luxe tower Extell is planning to build—its third—on 57th Street.)
But while 57th Street may be the new billionaire's row, no matter how many blingy towers rise along it, there's no denying that Central Park South is the better address.