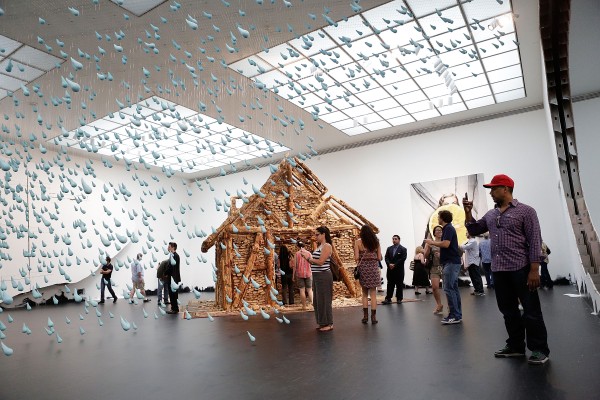 It's been almost six months since Jeffrey Deitch resigned as director of Los Angeles' Museum of Contemporary Art, and despite recent rumors that an announcement of his replacement was imminent, and comments from the museum's interim director, Maria Seferian, last month that a candidate was expected by the end of the year, it now appears that a name will not be released until the spring, according to board co-chair Maria Bell. [An earlier version of this post stated that an announcement could come as soon as this week; a full correction follows at the end of this article.]
Quite a few names have been bandied about as possible replacements since Mr. Deitch resigned near the end of July. While the new director will have plenty of financial concerns to focus on (fundraising will be key), it's worth noting a huge upside: he or she will likely be able to hire a few curators, which is a rare opportunity for a museum executive. Below, some names that have been in the air for the position:
— Heidi Zuckerman Jacobson, who as CEO, executive director and chief curator of the Aspen Art Museum since 2005 has earned positive reviews for her of-the-moment programming and her fundraising prowess. As of this summer she had lined up $58 million of a $65 million fundraising campaign, mostly for the construction a new Shigeru Ban-designed building. Museum directors like to depart when their new buildings are completed, and Aspen's is set for completion this summer.
— Ann Goldstein, who stepped down as director of the Stedelijk Museum in Amsterdam last year after three years on the job, has spent most of her career as a curator at MOCA. She worked there from 1983 to 2009 and became senior curator in 2001. An L.A. native, Ms. Goldstein went to UCLA, so she knows the city just as well as she knows the institution.
— Lisa Phillips, who has been director of the New Museum since 1999, oversaw its move to its new SANAA-designed home on the Bowery in 2007 and has been adept at attracting wealthy collectors to her board. After the Deitch experiment, in the midst of which MOCA controversially parted ways with longtime curator Paul Schimmel, it would be a decent bet that the board would want a seasoned museum administrator at the top. Ms. Phillips is that, and has plenty of curatorial experience.
— Olga Viso, the director of Minneapolis's Walker Art Center since 2008, is widely admired in the museum world. She was named in 2012 to President Obama's National Council on the Arts. It'd be a logical next step after almost six years in the freezing Twin Cities.
— Before becoming director of the Public Art Fund in New York in 2009, Nicholas Baume was chief curator at the ICA Boston from 2003 to 2009, where he led efforts to establish a permanent collection. He's something of a dark horse—it'd be a big step up, but not an inconceivable one.
— Philipp Kaiser resigned as director of Cologne's Museum Ludwig late last year after only about a year on the job, citing family reasons. He could potentially return to MOCA, where he had been previously as a senior curator since 2007.
— Philippe Vergne: could it be a Michael Govan sequel—another Dia director heading to L.A.? It feels like a long shot, since Mr. Vergne's plans for a new Chelsea museum for Dia have not been moving especially quickly, but it's possible his bold plan to deaccession works to raise funds for acquisitions may have impressed business-minded trustees in Los Angeles.
— A still longer shot: former Art Basel director Sam Keller has an enviable position as director of the Beyeler Foundation in Riehen, Switzerland—one he is unlikely to leave. But he was reportedly in the running last time around, when Mr. Deitch got the job.
Good luck in your bets with friends and coworkers. Here's a list of MOCA's board members, if you'd like to do a little arm-chair psychoanalysis on how they're likely to vote.
Update, Jan. 7, 9:55 a.m.: An earlier version of this post stated that an announcement about MOCA's new director was expected in the near future. However, reports today state that a replacement will not be named until the spring. The article and headline have been corrected to reflect this. We regret the error.
Update, 8:50 p.m.: Corrected that funds from Dia's deaccessions will be spent only on new acquisitions, not its proposed new building in Chelsea.